Father Kevin Morris, Vicar
Father Kevin became Vicar of St Michael's on 24th May 1996. He was born and educated in South Wales and later read music in North Wales, studying composition with William Mathias and Jeffrey Lewis. After this he spent a year in Pakistan, working with USPG in Lahore, before theological college in Cambridge. As part of his formation for ordination, Fr Kevin spent some time in Jerusalem, teaching at St George's College.
Fr Kevin was ordained deacon in 1988 at Llandaff Cathedral and served as curate in the Parish of Roath in Cardiff, with special responsibility for St Philip's church, Tremorfa, a church on a housing estate on the east side of Cardiff. He was ordained priest in 1989.
In 1991 he moved to London to be curate of St Alban's, Holborn, an important and influential church in the early history of Anglo-Catholicism. The Vicar was Fr John Gaskell, one of the great preachers and spiritual directors of the day, and under his direction the church became renowned for its music and had a significant ministry to the homeless and people with AIDS. During this time Fr Kevin was also chaplain to three West End Theatres.
Fr Kevin has a passionate concern for how the parish church serves the whole community through its daily worship and service as well as through its buildings. As a result, his time at St Michael's has been one which has seen a lot of physical changes to the church plant: the Hall has been refurbished, the church repainted (back to its original colours), a new Vestry and Sacristy have been completed and a new organ built.
In addition to being Vicar of St Michael's and chair of the Bedford Park Festival, Fr Kevin served for 11 years as Director of Post Ordination Training in the Diocese of London, has been the London Diocesan chair of Affirming Catholicism, and is currently the President of Sion College, a London based college for clergy, which was founded in 1630.
Fr Kevin has a deep interest in liturgy, Biblical studies and music and in engaging with contemporary issues with a generous orthodoxy. He is also very interested in the interconnection of Christianity and the Arts and has a particular interest in the theatre and poetry: He is Chaplain to the Tabard Theatre and Chair of the WB Yeats Bedford Park Project.
Fr Kevin was the first incumbent to be married in post, and at St Michael's, and he and Miriam have two children. In April 2015 he also became the priest-in-charge of the Parish of Acton Green and was made Vicar of St Peter's Acton Green in May 2016.
David Beresford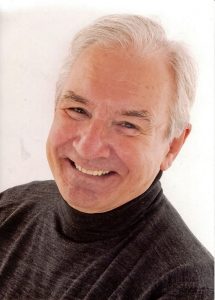 David has been a regular worshipper at St. Michael's for nearly 25 years, since moving to Chiswick after meeting his future wife, Cathie James, in 1989. Their Marriage Blessing at St Michael's took place in 1995. He served on the Parochial Church Council as Churchwarden from 1997 until 2001 – an exciting time in which the church saw, under the leadership of Father Kevin, the complete renovation and conversion of the Parish Hall into the Michael, Gabriel and Raphael Rooms of today.
He has been a member of the altar serving team since about 2004 – taking up a ministry he first performed as a boy – and he has found that being a server has profoundly deepened his faith and sense of Christian community. It has also provided him with a prodigious knowledge of the properties of candle wax and candle oil, and introduced him to the arcane arts of incense burning!
He has been photographing events at St Michael's for some years now, as part of the team of volunteer photographers under Jim Cox – the digital revolution has completely altered the way in which the life of the church community is recorded. This website is just another of several digital innovations in the archiving field. As Assistant Archivist, he has attempted to preserve the patchy records of past St Michael's life, as described in past reports and church magazines. He is also a member of the editorial team of the current printed magazine, the Clarion. Since 2014 he has been the lead researcher for St Michael's World War One Centenary project, investigating the lives and families of the 120 names of the Fallen that appear on the memorials inside and outside the church. This absorbing work is ongoing, and is supported by a grant from the Heritage Lottery Fund. Before retirement he was a medical practitioner, for 25 years as an NHS GP, and latterly in Legal Medicine.