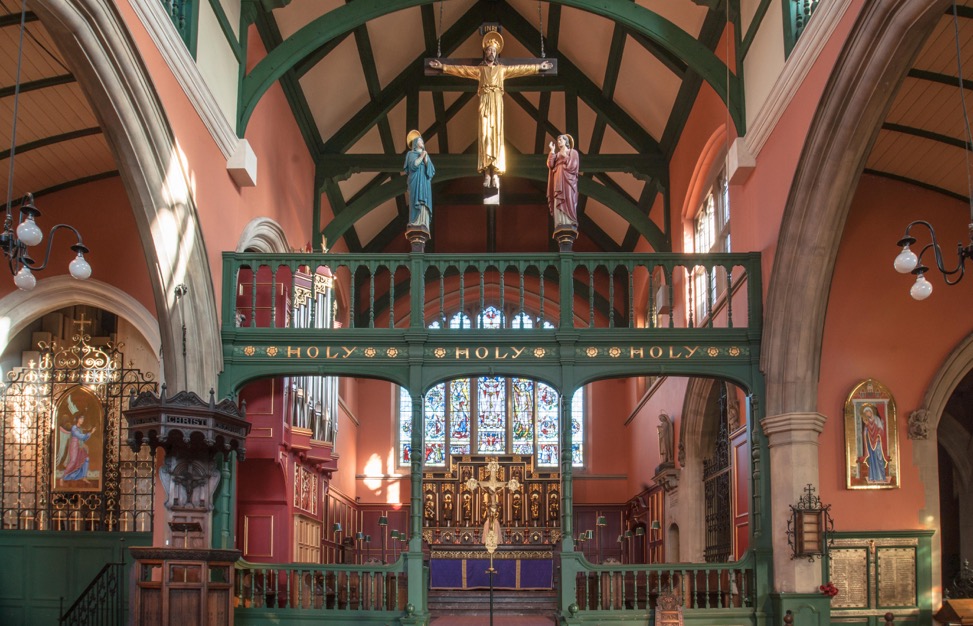 The design of the Rood , by "Mr. Robinson of Westminster" was announced in the Parish magazine of September 1917: "It will take the form of Cavalry in oak over the choir screen.  The Bishop of London has seen the design and strongly approve of it.  The cost, roughly, will be £100 – less rather than more.  Cartoons are being prepared …".  The design was duly printed in the magazine the following month: "It is distinctly a religious Memorial, representing the Great Sacrifice and is therefore , in this particular distinct from the public memorial, or seat, to be erected at the corner of the Churchyard .  Near to the memorial will be a brass plate recording the names of the fallen."
The Vicar, in his inimitable style wrote: " It is hoped by this means, the names will not only be commemorated but provide a perpetual lesson to our children and children's children of the days, and the deeds, and the men who, when we were passing through the valley of the shadow of death, offered themselves as a sacrifice.  … When they look at the crowned figure of the Christ, when they see His arms outstretched in blessing, and His face supremely happy, they will say 'these people believed in the Resurrection; they did not think the lads whose bones lie out yonder in foreign lands were dead; they believed they were with God'".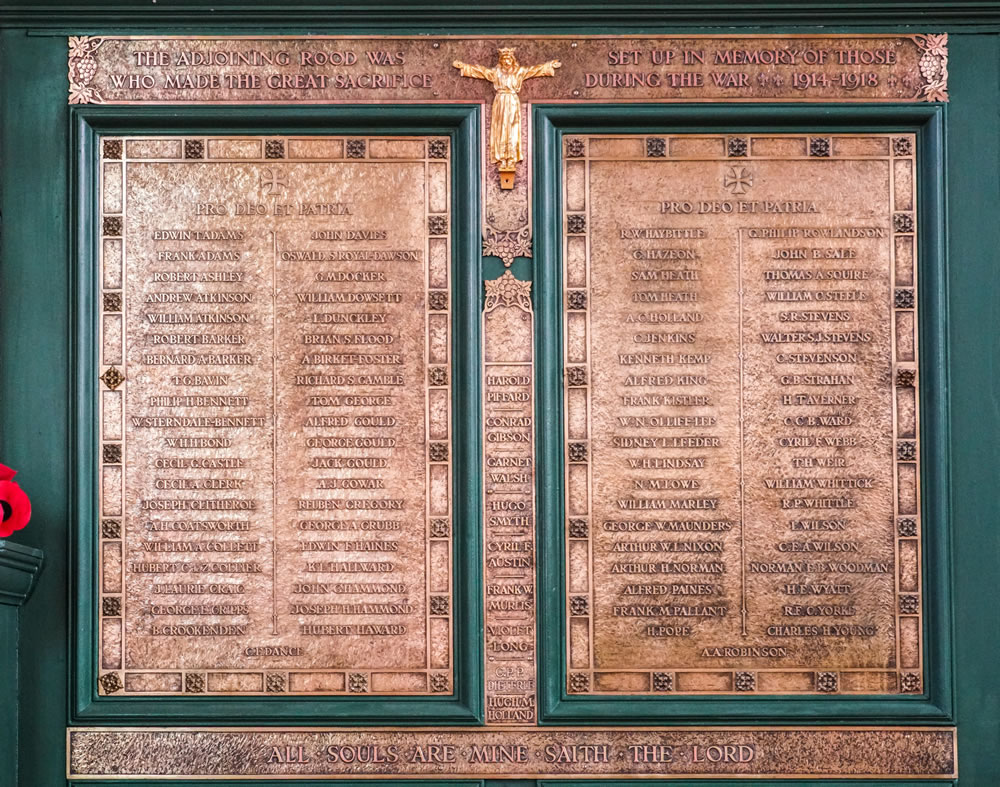 The Holy Rood in Memory of those Fallen in the War was unveiled on Saturday 28 September 1918, on the eve of the Patronal Feast of St Michael and All Angels.  The bronze plaque, inscribed with the names submitted by the congregation of the 91 Fallen from the Parish, was finalised some months later in 1919.
They are:
Edwin T ADAMS
Frank ADAMS
Robert ASHLEY
Andrew ATKINSON
William ATKINSON
Cyril F AUSTIN
Robert BARKER
Bernard A BARKER
T G BAVIN
Philip H BENNETT
W Sterndale BENNETT
W H H BOND
Cecil G CASTLE
Cecil A CLERK
Joseph CLITHEROE
A H COATSWORTH
William A COLLETT
Hubert C deZ COLLIER
J Laurie CRAIG
George E CRIPPS
B CROOKENDEN
John DAVIES
C F DANCE
Oswald S Royal DAWSON
C P P DIETERLE
G B STRAHAN
H TAVERNER
Garnet WALSH
C C B WARD
Cyril F WEBB
T. H WEIR
G. M DOCKER
William DOWSETT
Leonard DUNCKLEY
Brian S FLOOD
A BIRKET-FOSTER
Richard S GAMBLE
Tom GEORGE
Conrad GIBSON
Alfred GOULD
George GOULD
Jack GOULD
A I GOWAR
Reuben GREGORY
George A GRUBB
Edwin F HAINES
K L HALLWARD
John G HAMMOND
Joseph H HAMMOND
Rupert HAWARD
Hugh M HOLLAND
R W HAYBITTLE
C HAZEON
Sam HEATH
Tom HEATH
A C HOLLAND
C JENKINS
William WHITTICK
R P WHITTLE
L WILSON
C E A WILSON
Norman D B WOODMAN
H E WYATT
Kenneth KEMP
Alfred KING
Frank KISTLER
W N OLIFF-LEE
Sidney I LEEDER
W H LINDSAY
Violet LONG
N M LOWE
William MARLEY
George W MAUNDERS
Frank W MURLIS
Arthur W I NIXON
Arthur H NORMAN
Alfred PAINES
Frank M PALLANT
Harold PIFFARD
H POPE
A A ROBINSON
G Philip ROWLANDSON
John B SALE
Hugo SMYTH
Thomas A SQUIRE
William C STEELE
S R STEVENS
Walter S I STEVENS
G STEVENSON
R F C YORKE
Charles H YOUNG