Pte. William John Whittick
Killed in Action 14 July 1917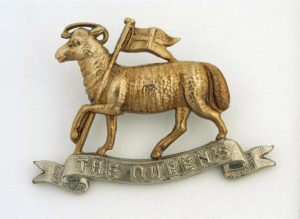 The Whittick family had been residents inthe Chiswick area since at least 1826, which was the year of birth of John Whittick, a lamplighter, who in 1881 lived at 6 Fishers Lane, Chiswick. With his wife Emily were 8children and a grandchild. Of these, the eldest, Harriett, aged 24 and Elizabeth, 22, were both Ironers at the local laundry, John J, aged 20, was a gas fitter, Richard, (16), a Post Office Boy. 10-year-old Louisa Victoria, and William J, (7), were at school.
20 years later, in 1901, John, at 76, is now retired and living at 212 Chiswick High Road, with his son Richard, aged 34, now a greengrocer with employed staff. Louisa, now 28 is married to Reuben Gregory, 35, a Carman, probably working in the greengrocery business and living at the same address, with their children, Molly, Florence, and a son, Reuben, aged 4. In the meantime, William J Whittick, now aged 26, is employed as a greengrocer's assistant, probably in his elder brother's firm, and living at 4 Bond Street, Chiswick. He and his wife, Susan, have 4 children, William John, 8, Emily, 7, Alice, 5, and John, aged 3. William had been born on 1 November 1892, and baptised by Revd. Alfred Wilson at St Michael and All Angels Church on 27 November.
At the time of the 1911 Census, William J Whittick had a greengrocery business in his own right.  He and Susan lived at 10, Bond Street, Chiswick, with his son William J (19) who was an assistant in the family firm, Emily (18) working as a folder at the laundry, Alice (16) working at the local soap works, and John,(14), at school as was Susan, aged 8. The census tells us that there had been three other children: Clara, Rose and Richard who had all died in early childhood. Meanwhile, John Whittick Sr. at the ripe old age of 85 still lives with his son, Richard, now at 408 Chiswick High Road, with the now widowed daughter Louisa (40), with her children, Emily (20), Florence (17), and Reuben Gregory Jr.(14), all working as assistants in Richard's firm, and Rose and Clara, her other two younger daughters. Her husband Reuben Gregory Sr. had died in 1907.
We know little more about William John Whittick Jr. except that he married Georgina Florence Armstrong at St John's Church, Hammersmith, on 23 March 1913. He is described as a greengrocer, and his address was that of his bride, 2 Colvin Street, Hammersmith. She was aged 19, the daughter of Andrew Armstrong, a labourer. His sister Emily Rhoda witnessed the marriage.
Private William John Whittick enlisted with 7th Battalion The Queen's (Royal West Surrey) Regiment, No.G/12049. He was probably conscripted in 1916. His medal card gives no indication of when he first saw active service. The Battalion formed part of 55th Brigade, 18th Division, and first entered France on 27 July 1915. Its first major engagement was on the first day of the battle of the Somme, 1 July 1916, on the line between Mametz and Montauban. It achieved its objective, but only after 12 hours of fierce fighting and severe losses. 174 Other Ranks were killed, and another 58 declared missing. It was back in the front line at the Schwaben Redoubt in September. However, it seems likely that William John Whittick formed part of the large tranche of reinforcements sent to the Battalion in November. Apart from a brief period of front-line duty at Grandcourt in February 1917, the Battalion was largely occupied with training behind the lines until May, when it took part in an unsuccessful attack by the Brigade near Neuville Vitasse, in the Arras area. It was moved to Belgium at the beginning of July 1917, being in the front line east of Zillebeke, suffering from heavy shelling with HE and Lachrymatory Gas from 12 July onwards. It was during these bombardments that William John Whittick was killed.
The official date of William Whittick's death was 12 July 1917, and it is inscribed on his headstone as such, at St Julien Dressing Station Cemetery. He lies in Plot 2 Row J, adjacent to the graves of 4 other Privates allegedly killed on the same day. The Battalion War Diary, however, states that 4 Other Ranks were killed on 14 July, and only one on the 12th. Furthermore, the diary unusually contains a complete named list of casualties for this period; Whittick, Whitton, Wood and Burford died on 14 July, and Hampton on 13 July. They were all in "D" Company.
William's widow Georgina received his War and Victory medals, and his back pay of 5 shillings and seven pence. By the time his War Gratuity of £5 was paid to her in January 1920, she had re-married in Hammersmith in early 1919, to another soldier, Private Ewart Edward Ree, born in Battersea in 1899, who had emigrated with his family to Canada as a teenager, and served in the Canadian Expeditionary Force, in the 54th Battalion. He will have survived the battles of Vimy Ridge, and Third Ypres. Sadly, he died from an accidental fracture of the skull on 19 May 1920 while still in the Canadian Army. Georgina had travelled to Canada in August 1919 with her 3 year old son, William George Ree (sic), who in fact was John Whittick's son. We know that she returned to Hammersmith for a visit after the death of her second husband. She did however return to Canada, and married a French Canadian, Florean Paul Antil, a motor mechanic, on 21 February 1922 in Oshawa, Ontario. William George Whittick married in Oshawa in 1947, and died there on 14 February 1998. Georgina died in Oshawa on 10 January 1978.