Private Harold ("Rolly") Reginald Grahame Sherard PIFFARD              
Missing, presumed Killed,  7 June 1917
"Rolly" Piffard was b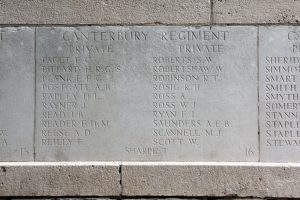 orn on 28 May 1896, the eldest son of an artist and aviation inventor, Harold Hume Piffard (1867-1938) who had married his mother, Helena Katharina Docetti Walker of Dundee, in 1895.  He had three siblings: Dorothy, born 1898, Ivan, 1899 and Grahame Laurence, who died sadly at age three months in February 1901.  It is likely that there had been complications at his birth, as tragically, Helena  died on 27 November 1900.  His father re-married, in 1902, Eleanor Hoile, with Rolly's step-brother Hume Piffard being born in Bedford Park in 1905.
Since at least 1898, the family lived at 18 Addison Road (now Grove).  Dorothy and Ivan continued living there certainly until 1969.  Harold Hume Piffard was  a successful artist, exhibiting 4 paintings at the Royal Academy from 1895 to 1899. He also became a renowned illustrator of adventure books for boys, among which was the 1918  "Victory Adventure Book", containing a story called "How an aeroplane flies" , coincidentally a subject echoed in his abiding interest in aero design  that led him to build and fly his own machine at Shoreham Aerodrome in 1910.
Harold "Rolly" Piffard started school at Miss Emma Jones' Private School, Bedford Park, which was established at the home of her brother-in-law, Thomas Rooke, also an artist of repute, at 7 Queen Anne's Gardens.  Rooke had married Leonora Jones, the former governess to Margaret, daughter of Burne-Jones, and  William Yeats' daughter Lolly taught briefly at the school.  In 1906 "Rolly"  went on to Latymer School.  According to that school's Roll of Honour, after leaving Class VI, about 1911, he went to farm in New Zealand with his uncle, but not before briefly serving as a peace-time territorial with the Queen's Westminster Rifles, (later 16th Battalion, London Regiment).  In New Zealand he eventually became a clerk with The New Zealand Loan Company at Blenheim, South Island.
"Rolly"  attested for service in the New Zealand Expeditionary Force on 9 February 1916 in Blenheim. He underwent basic training at Trentham Camp, near Wellington until 31 May 1916 when he embarked on SS "Willochra" in "C" Company 13th Reinforcement troops, as 7/4th New Zealand Reserve Force.  The ship docked at Devonport on 26 June and there followed further training at Sling Camp, near Bulford on Salisbury Plain.  He finally arrived in France on 6 October 1916 and joined 2nd Battalion, Canterbury Regiment in 12 (Nelson) Company on 22 October. 
In the first few months of his active service, "Rolly"  had been a gentle introduction to trench warfare.  In March 1917, the New Zealand Division was transferred to the Messines sector and until the end of May the battalion was occupied in intense training in the back areas around St Omer in preparation for the major British Flanders Offensive which ultimately formed the Third Battle of Ypres, which ran to a standstill in the mud of Paschendaele in the November.  The attack on the Messines ridge in June was a necessary preliminary engagement to straighten out the south side of the Ypres salient.  The two New Zealand Brigades were to take the village of Messines.  The attack was meticulously prepared, and was arguably one of the most successful of the War.  The Battalion's War Diary described the events of 7 June.  Practically no enemy artillery fire was encountered until  OXONIAN TRENCH was occupied. "Rolly"'s 12th Company was tasked with the capture and cleaning up of a portion of MESSINES and the capture of a section of OXONIAN TRENCH beyond.  It was held up for 15 minutes by the allied barrage failing to lift at the proper time.  However,  a portion of the Company was worked round the barrage and advanced through the village and as the barrage lifted they were joined by the remainder.  OXONIAN TRENCH was rushed, about 50 prisoners taken and many of the enemy killed.   A fair amount of sniping occurred but the snipers were soon overcome.  Some bomb fighting eventuated all round the village of MESSINES but not of a serious nature.  A large number of the enemy were killed and about 200 captured by the Battalion in the village.   The Battalion suffered casualties of 2 officers killed and 9 wounded. 37 other ranks were killed and 199 wounded.  Private Harold R G S Piffard was one of the 15 Other Ranks that were  "missing, presumed killed" by the end of the day.  His body was never recovered.  His name is inscribed on the Messines Memorial to the Missing erected by the CWGC.  He was just 21 years old and unmarried.  His father in Bedford Park received his War and Victory medals.