Private Charles William SCHWABEN
Died 23 December 1917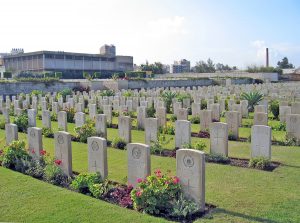 Charles William SCHWABEN, born in Edinburgh in 1887, was the first son of Hans Walter Schwaben, who was born in Gelsenkirchen in Germany in 1858.  With his parents Hans came and settled in Britain in about 1875, initially in Scotland, where he married Helena Geraldine Jordan, from Co. Mayo.  Hans was described as an Engineer and Artist, and became a British subject.  In 1901, Charles William, with his younger brother Henry Schwaben (born 1890) , were both at school in Kings Norton, Worcesterhire, but by then the family had moved to London and settled at 33 Fairfax Road, Bedford Park.  He had two elder sisters: Louise Jane Hedwig (b.1884) and Lillian Agnes (b.1886).  A second son, George Walter was born in 1889.  At the 1911 Census the family  were to be found there at Fairfax Road – Hans was described as a commercial traveller in the building trade.  By then Charles  had become employed as an Invoice Clerk for a firm selling China and Glassware.  His father Hans died at the age of 56 in May 1914.  His widow Helena subsequently moved to 7 Fairfax Road.  In 1906, Lillian Agnes had married at St Michael and All Angels, to a barrister's son, Lauriston Spalding.  
We do not know when Charles enlisted.  He joined the 2nd. Kensington's Battalion, 13th London Regiment as a Private.  The Battalion was formed in August 1914 with the intention of acting as the Regiment's home training unit, furnishing reinforcements to the 1st Battalion in the field to replace losses sustained in action. However, by November 1914 it was decided by the War Office that with the war's scale of operations rapidly escalating the new 2nd battalions of the London Territorial Force's infantry regiments were also to be mobilized for active service in the field. The 2nd Kensingtons did send drafts of reinforcements to join the 1st Battalion in France throughout 1915 whilst it was training in England, but not after early 1916 because of preparation for its departure on active service. It was briefly dispatched to Ireland in April 1916 to deal with the Fenian Revolution.  Afterwards it saw action on the Western Front in France (1916), Salonika (1917), taking part the Battle of Doiran; and in Palestine (1917), taking part in the Third Battle of Gaza, and the Battle of Jerusalem.  
We cannot be sure how and in which campaign Charles sustained his fatal wounds but probably during the actions around Jerusalem – or it is quite possible he may have died of illness – the Alexandria (Hadra) Military Cemetery where he lies (in Plot D 275) was an important hospital area from 1916 onwards.  His headstone reads"
"Leave him – Still loftier than the World suspects living and dying"
Helena Schwaben lost two of her three sons in the War.  She died in 1923.  Henry Schwaben was killed in December 1915 in the Mesopotamia Campaign.  George Walter Schwaben survived the war.  We know that he travelled to Australia in TSS Euripides as a Saloon Waiter but volunteered as a Private in the Oxford and Bucks Light Infantry on 22 February 1915.  After the War he married Winifred Hutton, also in 1923, and lived until 1964.