Rifleman Joseph Woolf
Died of Wounds 21 August 1917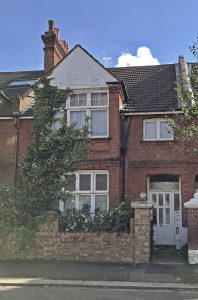 In 1911, Michael and Sophia Woolf lived at 3 Fielding Road, Bedford Park. He was a tailor's manager, born in Bow in East London. They married in 1882. Joseph was their eldest son, born in Kimberley, South Africa in June 1892. Cecilia, born in 1894 had been born in Leeds. Harry (1896), Jeanetta (1897) and May (1900) were born in London. They were Jewish. Joseph was working as a tailor's cutter. Cecilia was a Civil Service student. In 1901 the family had lived in Willesden.
We are fortunate to have access to Joseph's Service Records because a majority of the records for "Other Ranks" were destroyed by fire resulting from enemy action in WW2. It seems that Joseph had enlisted at the commencement of conscription at the beginning of 1916. He attested on 28 January at Ealing and joined London Regiment as Private, No.6182 (2/9th (County of London) Battalion (Queen Victoria's Rifles) London Regiment. His unit moved to near Woodbridge, Suffolk in May 1916 and then to near Warminster, Wiltshire. It mobilised at the end of the year. However, on November 23 1916 Joseph was attached as a part of a draft of reinforcements to 9th Battalion, Royal Irish Fusiliers. The 9th (Service) Battalion (County Armagh) had landed at Boulogne-sur-Mer as part of the 108th Brigade, 36th (Ulster) Division in October 1915 for service on the Western Front and had seen service in the Somme. Following his attachment, Joseph was ultimately formally transferred to the Battalion (requiring re-enlistment in the field) and became Rifleman 43389 on 10 May 1917.
The Battalion War Diary describes the Attack on Hill 35 on 16 August 1917, in the early part of The Battle of Paschendaele.   The attack was the first and only engagement in which Joseph Woolf participated. He had been in two uneventful front line trench positions for three day stints in between intensive battle training and recreation in rear areas. We do not know which Company of the battalion he was placed. A contemporary report in the Morning Post described the later stages thus:
"The counter-attacks drove in the thinned but still determined line of Irishmen, and they came back across the riddled ground, some of them wounded, all in the last stages of exhaustion, pausing in their unwilling journey to fire at the snipers who harassed them, reaching at last the trenches that they left at dawn, angry, and bitter, and disappointed, but undismayed – the heroes of a splendid failure. For heroes they are, every man of them. They died together, men of Antrim and men of Clare; they died to help each other."
Joseph received his fatal wounds in this attack. His service record describes his wounds:
16.8.17 Wounded in Action in the Field.
18.8.17 Admitted to 109 Field Ambulance. GSW Face and Legs.
19.8.17 Admitted to No.3 Australian CCS, GSW Face, R Thigh Fracture Jaw.
21.8.17 Died of Wounds.
During the First World War, Brandhoek was within the area comparatively safe from shell fire. Field ambulances were posted there continuously. Until July 1917 burials had been made in the Military Cemetery, but the arrival of the 32nd, 3rd Australian and 44th Casualty Clearing Stations, in preparation for the new Allied offensive launched that month, made it necessary to open the New Military Cemetery. The New Military Cemetery opened in August and continued in use until May 1918. Rifleman Joseph Woolf is buried there, at Brandhoek New Military Cemetery No.3, section II, Row A , Plot 1. His family had it inscribed: " With love from his devoted parents, sisters and brother. Sadly missed".
After the war the family moved to 19 Esmond Road. Joseph's parents received his War and Victory medals, and his back pay of £1/12/7 and and a War Gratuity of £4/10/0.