Lieutenant Lionel Francis Derek Lutyens RFC
 Died on Active Service 8 May 1918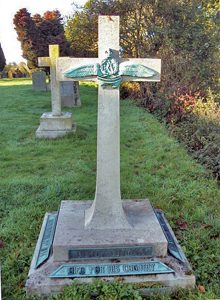 Lionel F D ("Derek") Lutyens was born at Maidnewton, Dorset on 19 November 1894, the eldest son of Lionel C Lutyens, b.1865, a Director and Land Agent, who was himself the third son of Charles Augustus Henry Lutyens, a celebrated Portrait Painter. Lionel (senior's) elder brothers were Charles Benjamin (1853), Frederick Mansfield (1860) and Francis Augustus (1864) and younger brothers were Arthur Anstruther (1867) Edwin Landseer Lutyens, the celebrated architect (1867).  In 1871, the family lived in 16 Onslow Square.   Another brother, William Enderby was born in 1872.  Derek's father had grown up (as had Edwin) in Thursley, Surrey. 
At the 1901 Census, Derek was aged 6 and living with his parents, Lionel and Lucy at 4A Queen Anne's Gardens, Bedford Park.  Later they moved to 26 Queen Anne's Grove.
Derek was educated at Elstree and Aldenham School.  It is not clear to what extent he undertook employment prior to the Declaration of War.  His attestation suggests he was undertaking clerical work, though later records state that between May and August 1914 he was employed with Mr J Henderson in an engineer's office at 7 Mincing Lane, London.
Derek volunteered on 29 August 1914 as Private, 10th Battalion, Royal Fusiliers, was rapidly promoted to Corporal before being sent for Officer Training.  He was gazetted T/2/Lieutenant on 15 December 1914 (LG page 10693), in the same regiment, and was promoted T/Lieutenant 18 March 1916 (LG page 3031).  He went to France with his regiment in 1915, and remained there as bombing officer until after the battles of Pozieres and La Boiselle.  He transferred to the General List about November 1916, and to the Royal Flying Corps in 29 March 1917.   He trained at the Royal Naval Air Service Training Station at Vendome in France, transferring to 64 Squadron as an Assistant Instructor in June 1917, and was eventually chosen as a pilot for the Experimental Squadron at the Royal Air Factory (now Establishment), Farnborough in August 1917.  His RFC record states that he had completed 3 years of training in Mechanical and Electrical Engineering, and that since joining the RFC he had undertaken 2 months work in Aerial Gunnery in Oxford and 8 months experimental flying on all types of aeroplane.
Lieut. L F D Lutyens RAF was killed while on active service, on a test flight in Surrey on 8 May 1918.  He was accompanied by a civilian, D H Pinsent as engineer and observer on Airco D.H.4 A7671 at or near Maplesham Heath.  The machine was undergoing pressure tests on the tailplane which failed and the plane crashed and broke up at Trimley.  Mr Pinsent's body was not found for several days until discovered floating in the Basingstoke canal between Mytchett and Frimley bridges.
 Derek was buried in the churchyard at St Michael and All Angels, Thursley, where three generations of the Lutyens family had lived.  The funeral was undertaken by Derek's uncle, Canon William Enderby Lutyens.  According to the late Derek Lutyens, namesake and nephew, the memorial "...gravestone's design is almost certainly the work of my great uncle Edwin"…" In the circumstances Derek was to have a memorial that is rather more elaborate than those of almost all the thousands upon thousands of his contemporaries who died in 1914-1918. Edwin Lutyens certainly rose to the opportunity, almost as if he realised it was a first rehearsal for the many memorial monuments he was subsequently to design".
Derek's executor was William Frederick Lutyens, Company Director, Derek's cousin, the son of Frederick Mansfield Lutyens, also an artist, who had lived for a time at "Longcot", Newton Grove, Bedford Park, and died at St Mary's Convent and Nursing Home, Chiswick in 1924.  Frederick's other son, Lieut. Charles John Lionel Lutyens died at Zillebeke on 3 October 1917 at age 21.  He had served with the 156 Bde., Royal Field Artillery.  Another of Derek's cousins, Lieut. Cyril Arthur George Lutyens, Coldstream Guards, died at Passchendaele on 8 October in the same year and is commemorated at Tyne Cot memorial.  Lionel's eldest uncle, Charles Benjamin also lost two sons:  they are commemorated at Bard College, Annandale, New York, being grandsons of its founder.  They are Capt. Charles Graeme Lutyens, 6/East Lancashires, killed in Gallipoli on 9 August 1915 and Major Lionel Gallwey Lutyens MC, 28 Bde. RFA was killed in action at Langemarck on 6 January 1918.  
Thus, Sir Edwin Lutyens had lost no less than five nephews in the Great War.