L.Cpl. Harry Alexander Bertie William TAVERNER
Died of Wounds 25 April 1915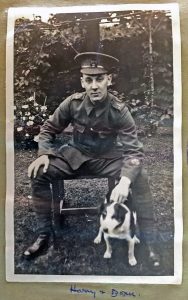 In 1901, at the age of 9, Harry Alexander Bertie William Taverner lived with his widowed mother, Eliza and his cousin Norah. Eliza was housekeeper at a mansion in Shrivenham, Berkshire occupied by the aristocratic Hoyos family. Countess Alice Hoyos's father was a wealthy industrialist, Robert Whitehead, whose partner in Whitehead & Co's Torpedo Works was Count George Hoyos. Eliza's younger sister, Mary Elizabeth had married a Venetian artist, Cherubino Kirchmayr, who had undertaken a number of portrait commissions for the Hoyos family. Cherubino had also taken the opportunity to paint his sister-in-law, Eliza Taverner.
As we know from Larry Duttson's "Mainly about Bedford Park People", the Kirchmayrs lived at 29 The Avenue, Bedford Park. He died in January 1903 and by 1911, his widow was to be found living with her sister Eliza, who by then had moved to 3 Emlyn Villas, Stamford Brook. We don't know the whereabouts of Harry, nor his elder brother, George Beauchamp Robert at that time.
It is clear that Harry had joined the Territorial 9th. County of London Battalion, the Queen Victoria's Rifles, very early in the war, because his unit embarked for France as early as the beginning of November 1914 and first experienced trench warfare at Neuve Eglise (Nieuwkerke) near Ypres.
During the days before his death, his unit had been actively involved in front line action. The battle at Hill 60, 17/21 April 1915, where there is now a memorial to the Royal Victoria Rifles (1/9 London Regiment) was fierce and costly. A CCS Nurse reported in Poperinghe: "April 18th.  Our men made an attack last night, we heard the heavy firing (in fact it shook the houses) that covered their advance. In 3 minutes they had taken a trench and 13 prisoners 2 officers. The whole work of the night was a hill of importance blown up, arms and legs of men flung high and into our own trenches – 6 lines of trenches taken and 2,000 prisoners. The Germans made a counter attack, and killed and wounded nearly 1,000 of our men. We have had over 600 through our hospital to-day, badly wounded, and fearfully collapsed, some who have been out since Aug. say it is quite the worst time they have had. We went on duty at 5.30 a.m. and stayed on till 9 p.m…. It has been a sad day in the theatre and a terribly tiring one. Amputation of arms and legs, and insides cut and packed in. Am very tired."
After Hill 60, the remnants of the unit retired to near Vlamertinge by 22 April, but was then in action again (in a much-reduced state) at the start of the Second battle of Ypres by 24th April. There the unit was involved in fighting around Weiltj, having been ordered at short notice to march in support of the Canadians in that area.
It seems clear that Harry Taverner would have sustained severe wounds at the start of the Hill 60 engagement but was able to at least have some treatment at the casualty clearing station No. 3 or 5 in Poperinge. He was buried at Poperinghe Old Military Cemetery, which was created in the course of the First Battle of Ypres and was closed, so far as Commonwealth burials are concerned, at the beginning of May 1915.
It was Harry's elder brother George who arranged for the inscription "Greater Love has no Man" to be placed on his memorial stone in the cemetery, and received his medals: the 1914 Star with clasp, the British War medal, and the Victory medal.
Photograph by Courtesy of  Stamford Brook 'House History Project'