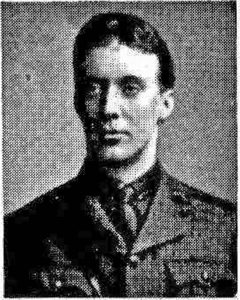 Second Lieutenant Cyril Frederick AUSTIN
Killed in Action 10 March 1915
Louis Frederic Austin, an author and journalist, was born in Brooklyn, New York on 9 October 1852. He married Wilhelmina (Minnie) Jemima Robinson (born Paddington 1854) in Kensington in April 1976. There were born their first three children: Louis (1876), Hilda (1878) and Harold (1881). Shortly after 1881 the family moved to Bedford Park where they lived at 48 Woodstock Road. There were three more children born there: Maurice (1883), Cyril Frederick on 6 October 1884 and Phyllis Muriel (1888).
In 1901, Hilda was living at boarding school in Margate, Minnie and her other children were at Woodstock Road, whilst her husband Louis Frederic was living in Brighton. He died in Brighton on 15 September 1905, aged 52. Louis's books can still be sourced. At the 1911 census, the family was at Woodstock Road: Minnie, head of the household, was 57, while Hilda (32) was an artist, Harold (30) a composer, Maurice (28), Engineer's draughtsman, and Cyril (26) was a journalist. Phyllis Muriel (22), an actress, was a visitor at 36 Fairlawn Grove, Chiswick. She married Edward Coke (32), on 4 May 1912.
In 1913, Hilda married Leonard Cotterill in Farnham, Surrey. Amongst other works, she designed posters used by the London Underground railway in 1914.
Among his other works, Harold Austin composed "I have a dream" (1920) and "Mammy's li'l Feller" (1924).
Cyril was educated in Belgium and Germany, joined the editorial staff of Reuters (described by its Chairman after Cyril's death as "one of our most promising young editors") and became a member of the Artists Rifles (later 28th City of London Regiment) from 1907. During the pre-war period he won cups with the Tent Pitching team, and for 5 years in the Bayonet Team, taking part in the Naval and Military Tournament at Olympia in 1913 and 1914, winning many spoons and cups.
From 26 October 1914 he was serving as a Sergeant, 28/City of London Regiment in France. He was commissioned 2nd. Lieutenant into The Queens (Royal West Surrey) Regiment and gazetted on 22 Novenber 1914, serving continuously in the trenches during the winter of 1914/15. From there he sent home several "graphic sketches of soldier life, published as "From a subaltern in the trenches". (See transcript). He was mentioned for important and dangerous reconnaissance work in ascertaining the position of enemy saps in the dispatch of FM Sir John French dated 31 May 1915.
On 27 February 1915, Cyril was granted home leave to marry Margaret Elizabeth Russell (father, Samuel Bridgman Russell) in her home town of Hitchin, Herts., at St. Ippolyt's returning to the Front the following day.
He was killed in action at Neuve Chapelle on 10 March 1915, and buried at Laventie (Royal Irish Rifles graveyard) (Ref. I.D.3). The Medical Officer of the battalion, writing with reference to his death, said:
"For some time he and his men occupied a small position of the utmost importance to our line, a position constantly sniped and bombarded by the enemy. I well remember going down to see a wounded man in this isolated post after the German trench mortars had blown the defences about their ears. Austin – wet, muddy but cheerful – crawled out of the ruins and displayed the utmost concern for his wounded man. Brave, cool and fearless himself, he would go out of his way to show me a safe way out of the trenches and where I could avoid ploughing through too much mud and water. I was talking to him a few minutes before he was hit, and it was a terrible blow to me that when I was called to him his condition was such that no treatment was available."
He would have been awarded 1914 (Mons) Star, British War Medal (with oak leaf) and the Victory medal. After the War his widow had moved to Flat 2, 1 Carlisle Mansions Bayswater. It doesn't appear that Margaret Elizabeth Austin ever re-married.