Pte George Philip Rowlandson
 Killed in action 1stOctober 1918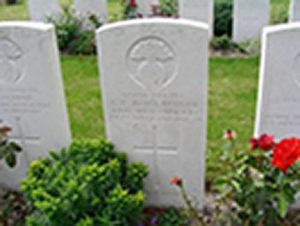 Geore Philip Rowlandson was born in Gloucestershire on 14 January 1899 to George Derville and Manuela Frances Rowlandson, his father being a well-known etcher, illustrator and painter and one of the first official First World War artists. The painting below is an example of such work, worked in gouache and probably based on eye-witness accounts of the scene depicted.  He also had a brother, Paulin Edward, born 1904 in Gunnersbury, who was five years younger than him. By the time of the 1911 census, the family had moved to 22 Priory Road,(now Avenue), Bedford Park, where George's father worked at home. When war broke out, George was educated at Latymer School from 1908, having been at Gunnersbury High School.  He left Latymer in 1915 and according to the Middlesex Gazette, wished to join the army at once. His eagerness to enlist may have stemmed either from his being a keen member of Chiswick Scout troop, or from his military heritage; his grandfather had been General Rowlandson of the Madras Staff Corps.  However, as he was only 15 at the time, his parents exercised their restraining power, though did allow him to enter an office, gaining a clerkship in order to release a man for the front. In the autumn of 1916, he was accepted by the Artists' O.T.C., though to his astonishment and disappointment, failed to pass the medical test.
In the spring of 1917, he turned 18 and immediately joined the London Rifle Brigade, going into training at Blackdown Camp, Aldershot. Taking after his father, George was a keen artist and so devoted much of his spare time at Blackdown to painting, something he had great aptitude for.  His oil paintings and water-colour sketches, completed at Blackdown, and later preserved at his home in Bedford Park, show that he would have made a promising young artist.
After his training as Private 50056, George transferred to the 1/Battalion, Royal Irish Fusiliers which was transferred to the 108thbrigade of the 36thUlster Division on 8thFebruary 1918.  At the end of September, in the final advance in Flanders, the Brigade was engaged in a support role in the Battle of Ypres.
Three British Divisions, attacking at 05.30am on 28th September without a preliminary bombardment to maintain the element of surprise, into ground held by only 5 German Divisions, had advanced over 6 miles (9.6 km) by the end of the day, recapturing much of the ground west of Passchendaele that had been abandoned in early 1918, capturing Geluveld and Kruiseke. 36th (Ulster) Division were the Corps Reserve.
36th (Ulster) Division moving forwards alongside the other two divisions the following morning, 29 September at 09.30am, 109th Infantry Brigade advanced on Terhand. The attack made rapid progress – the village was cleared by 15.45pm.
108th Infantry Brigade, passing through 109th Infantry Brigade during the night, and continued the advance from Vijfweben towards Moorsele the following morning, 1st Royal Irish Fusiliers in the support role.  They came under heavy fire from positions in Methuen Wood and Leadenhall Copse and 2nd Royal Irish Rifles came up in support during evening of 30th September-1st October, both Battalions continuing the attack the next morning, 1st Royal Irish Fusiliers having a hard fight to capture and hold Hill 41, needing 9th Royal Irish Fusiliers moving forwards to assist them.
Private George Rowlandson was killed in action on 1stOctober 1918, probably at Hill 41.  He was buried at Dadizeele New British Cemetery, built after the War, by concentration from a nearby British or German burial ground.  His parents caused his headstone to be inscribed "God is Love".  He will have been awarded the British War and Victory medals.
Freddie Maud