Sergeant Richard Francis Charles YORKE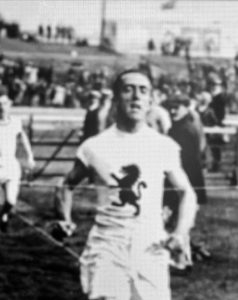 Richard Yorke was the son of Charles Vincent G G Yorke, an official in the Inland Revenue Department, as has been his father before him, and Martha, nee Latham, his wife.  The Yorke family members were long-standing Chiswick residents being recorded as living at 15 Arlington Park Gardens in the parish of Christ Church, Turnham Green in 1891.  Richard had three younger sisters, Marjorie, Doris and Winifred.  When Charles died in May 1908, the family had moved to 24 Woodstock Road, Bedford Park.  By 1911, Richard become a Bank Clerk, Doris was a teacher at Bedford Park High School, and Winifred, a shorthand typist with a publishing firm.
Richard Yorke had been a pupil at Latymer Upper School between 1896 and 1901 when he began his bank career.  At school it was recorded that he was a fine sportsman, particularly as a distance runner especially at the 1000 yards and a mile.  For a time he was a contemporary of his future London Scottish friend and colleague Norman Lowe (q.v.).  Later he joined Blackheath Harriers, ran for his company in the inter-bank sports, and for his Territorial Unit the London Scottish (1/14 County of London Battalion) in the 1911 Territorial Games, where his team also won the relay.  He competed in both the 1908 (London) Olympic Games, and 1912 (Stockholm).  In the very first Steeplechase competition at the 1908 Games, he was unfortunately disqualified in the fourth heat, for allegedly obstructing a fellow competitor at the water jump (see picture). His best mile time was at a 1909 competition, at 4m 28s.  At Stockholm, the winner of his 1500 m semi-final posted a time of 4m 07s.
On 6 June 1914, Richard married Lilian Maud McNee in Westminster and lived with his wife at 9 Fairlawn Court, Chiswick Park.
Richard had enlisted in the ranks of the 7th Middlesex Volunteer Rifle Corps as early as 1906 in 'B' Company, which became the London Scottish 1/14 County of London Battalion after the Haldane reforms.  On the outbreak of war he volunteered for foreign service, was promoted to Sergeant and travelled to France on SS Winifredian on 15 September 1914.
He survived the fighting at Brown Road Wood and Messines when the battalion covered itself with glory.  He had taken over the Machine Gun Section after Lieut. Ker-Gulland was killed in November.  Sergeant Richard Yorke was shot in the head and killed by a German sniper hidden in a haystack at Givenchy on 22 December 1914, while re-positioning his machine gun.
Richard was initially buried near he fell, inside the ruins of the Givenchy church, in the presence of his old friend Sergt. Norman Lowe.  After the war, between 1926 and 1929, he was reburied at Arras Road Cemetery, Roclincourt.  His headstone is inscribed "To Live in the hearts of those we leave behind is not to die" – words supplied by his wife Lilian, who by then had remarried as Lilian Roland and lived in Highgate