Lieut. Kenneth Leslie HALLWARD
Killed in Action 28 May 1916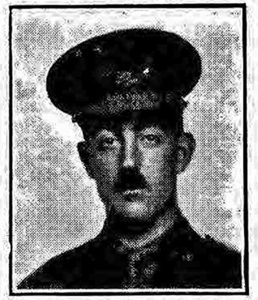 Kenneth's father, Arthur Wellesley Hallward, had been born in Shepherd's Bush in 1860.  He was a civil servant, who had married Caroline S Marley around 1885.  He worked at Scotland Yard.  Kenneth was their second child and only son, born in Bedford Park on 7th. June 1890.  At the time the family lived at 41 Woodstock Road, but soon afterwards they moved to Milton House, 2 The Orchard.  Kenneth was baptised at All Saints Church, South Acton on 1st August.  His elder sister, Marjorie, became a music teacher.
Kenneth was educated, firstly at Durston House, Ealing, and gained a scholarship and went to Dover College, until January 1909, when he was admitted to Strand School, which at that time had been developed to provide Civil Service orientated training.  He had gained the London Matriculation, 1st Division, in that June, and in December of the same year he was nominated to the Bank of England where he stayed for two years.  Thereafter he moved to Somerset House in a more senior clerical capacity.
By 1911, the Parish Magazine regularly reported that Arthur Hallward was an elected sideman at St Michael and All Angels, and had assumed the treasurership of the choir.  By 1914, the expenditure for choir and the director amounted to £180 annually, and he had been obliged to appeal for funds to redress the deficit!  In the meantime, Mrs. Hallward had assumed responsibility for the High Altar flower fund.  Kenneth was an active member of the choir.
In the meantime, Kenneth found time to join the Artists Rifles, a volunteer Corps, originally created in 1859, but in 1908 with the formation of the London Regiment it became its 28th Volunteer Battalion.  It was so popular among public school and university men that admission eventually was restricted by recommendation by existing members.  Kenneth joined in 1910 and by the outbreak of war he had risen to the rank of Corporal.
With his battalion, Kenneth was an early participant in the British Expeditionary Force.  His medal roll notes that he entered France on 26 October 1914.  Early on he was selected for Officer training, and duly gazetted 2nd Lieutenant on 3 March 1915 when he joined 3rd. Battalion, Worcestershire Regiment, then in service in Flanders, near Kemmel and Dikerbusche.  He was wounded on 1st April, and was repatriated for treatment at St Thomas' Hospital.  By August he was fit enough for light duties in England but only returned to the front line in March 1916, near Mont St Eloi to where the Battalion had been posted to relieve the French after the Battle of Arras.  Under continuous heavy bombardment in the front line trenches, Kenneth was probably killed by shell-fire that killed or wounded 6 Other Ranks on 28 May 1916.
Kenneth was buried at Ecoivres Military Cemetery, Mont St Eloi, within sight of the abbey, ruined in 1915, founded there in the seventh century.
A brother officer wrote:"Your son did splendid work in the trenches and helped the men to do their duty cheerfully.  We had an especially hard time, and lost many officers and men."
In the July 1916 edition of the Parish Magazine, the vicar wrote:"Since our last issue we have lost one our best and dearest lads in the War – Kenneth Hallward.  A wreath hangs over his vacant seat in the Choir, and will remain there until we put up the permanent memorial in the Church to him and his companions who have given their lives for their country in this War."
In October 1916, Mr.and Mrs. Hallward left the Parish for a new home near Beaconsfield.  The vicar offered thanks " to Mrs. Hallward, who has cared so well for the flowers on the High Altar….  We shall miss her and Mr. Hallward, our Choir Treasurer, who has always maintained a keen interest in the music of the Church.  Our best wishes go with them to their new home."