Private ANDREW PARTRIDGE ATKINSON
Killed in Action 11 November 1914
The first person on our memorials to have lost his life in the Great War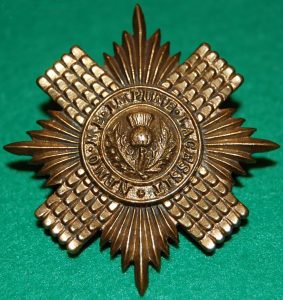 Andrew was born about August 1891, and was the second of the seven sons of Andrew S Atkinson and Florence Atkinson nee Partridge.   Andrew (senior) had been a Police Constable and the family had grown up in Manor Park, East Ham where he worked his beat.  In 1911 however, having retired from the force, he had taken up a post as Night Watchman at a firm of Builders Merchants in Chiswick.  By then, after 28 years of marriage, Florence had borne 13 children, three of whom had died in childhood.  The 7 roomed terraced house at Holly Road accommodated ten people, including a female lodger who worked locally as a laundress, just like the eldest daughter, Rachel, also.
Andrew (junior) by 1911 had joined the army.  He then was in barracks, a Private in the 2nd. Battalion of the Scottish Regiment of Foot Guards.  Presumably he will have joined some years earlier, because in early 1914 we know he was briefly employed, from July 1913, as Railway Policeman at Brighton Goods Station.  Perhaps he never actually lived in Chiswick.  He will have returned to the Scots Guards before the breakout of war, as a contracted regular soldier on the reserve strength, but in any event, he was in the first tranche of the British Expeditionary Force and landed from SS Dunvegan Castle in Le Havre with his battalion, the 1st., on 14th August 1914, all reservists having mobilized on 5th August. The reservists were described as "magnificent clean steady men".
The Battalion spent its first 5 weeks in France in movement from position to position arising from the initial battles around Mons (at which it was not involved) and the subsequent retreat by the B.E.F. to the river Aisne, and the stabilization of the Front there.   At the beginning of November, it moved to Belgium and was actively involved with the First Battle of Ypres.
On November 11, 1914, Andrew and his colleagues were entrenched at Velthoek, near Ypres, when they came under ferocious attack by the Kaiser's Prussian Guard. Only 65 men managed to escape. The battle was, for the Scots Guards, almost like a massacre. As an eye witness wrote: "A lot of members of the 1st Battalion Scots Guards were killed in that battle, they were buried alive in trenches which were not as well built back then."
 The Battalion War Diary reads:
"11th November – Terrific shelling commencing at 6.30 a.m. and lasting for 3 hours. All trenches and dug-outs were knocked in. The Prussian Guard attacked through VELTHOEK and took the front trenches along the whole of 1st Brigade. Our men in orchard held on till trenches on either side were occupied by the enemy, and did good execution. The point d'appui was shelled to pieces early in the morning and then attacked by infantry from the wood. Only 5 men from the fire trench, 30 from the orchard, 4 from point d'appui and Batt. Headquarters escaped, and managed to rejoin rest of Brigade at dusk. Enemy got within 200 yards of our guns, but were driven back, losing very heavily."
Andrew was never found.  His medal card indicates that he was "Presumed Dead".  9 Officers and 105 Other Ranks were killed in the action.  Over 400 were listed as "missing".
He is commemorated at the Ypres Menin Gate Memorial for those with no known grave, on Panel 11.  He was aged 23.  His younger brother, William Atkinson, was to die at Loos in 1915.