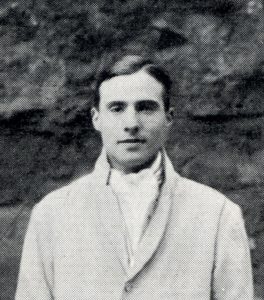 Pte. George Constantine PAUL
Killed in Action 17 October 1915
The Paul family came to Bedford Park in 1902, initially at 21 Gainsborough Road, and by 1911, 11 Bath Road.
George Constantine's father was Paul Paul, formerly Paul Politachi, who had been born in 1866 of Greek but naturalized British subjects, in Constantinople. The grandfather, Constantine Politachi was to be found in 1891 in Salford, Manchester, the manager of a shipping warehouse, and his son at 25 was a "grey cloth" agent.
Paul will have changed his surname to Paul around the time of his marriage to Marion, George's mother, about 1894. He became an landscape and portrait painter, and in 1901 lived in Bushey, Herts. where Paul was a pupil of Hubert von Herkomer. George was born there on 18 November 1895. Unfortunately, his mother died in 1909. After coming to Bedford Park, George was educated at Westminster School.
At school, from 1910 to 1914, he was in Ashburnham House and played a full House life. He was tanned (beaten) by a senior monitor for entering the senior boys' study "improperly dressed". However, he gained house colours and later full "pinks", helping his house to win the inter-house cricket and football competitions in 1913.  He made it on to the 1st XI during his last year at school, although the report for the season stated that 'he must learn to keep his eye on the ball when he tackles instead of making rather a blind dash for it.' At the date of the census in 1911, George had a half-brother, John, aged 1. His stepmother, Margaret Ellen nee Bersie, had been born in Merseyside and perhaps the family's long-standing connections there would have caused George to have sought work in Lancashire when he left school.
George Constantine volunteered for military service on 25 May 1915. His Military Record shows that at that time he was working in the Liverpool offices of Ralli Bros., a large international shipping firm. He became a Private with the 10th (Scottish) battalion, Liverpool Regiment. He first entered Belgium as part of a tranche of reinforcements for the Battalion on 6 September 1915.
The Battalion had seen continuous service in Flanders since November 1914. It had been heavily involved in the Battle of Hooge (the First Action at Bellewarde) suffering many losses, after which it was retired to 2nd and 3rd line duties. The War Diary for October 1915 describes a quiet period of trench support work, but George must have been one of the five victims of sporadic shelling or sniper fire, on 17 October, after only 40 days of active service.
He is buried at the Divisional Cemetery at Vlamertinghe, 2Km West of Ypres.
The Vicar, Rev. Jacob Cartmel Robinson wrote that November:
"Alas! For those who have not returned, like Lee and Webb. What fortune has befallen them we cannot say certainly, except that they are both missing. Their parents are well known at St Michael's, and we are very, very sorry for them in the loss of such splendid fellows, so full of health, so good to look upon.
"Then again there is Paul, an old Westminster boy, whom I have seen so often going down the Bath Road in the old days in his top-hat. What we say of the other two we can also say of him – a splendid fellow, of whom his companions spoke well, and the beloved of his home.
"Oh! The pity of it. One can hardly think of them without tears; and yet in the after days, when there is peace, England will realize, I am sure, that their self-sacrifice won the day for us, and their blood was for the healing of the nation."