2/Lieut ALFRED HENRY COATSWORTH
Died of Wounds 9 September 1916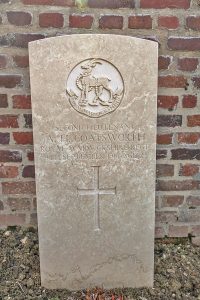 Alfred was born on 1st. August 1887, in Paddington, the only son of an accountant.  In 1911, he was living with his parents, Alfred and Martha, at 46 Bath Road, Bedford Park.  At that time, he worked as an assistant to a Silk Merchant.  Almost exactly opposite, at 29 Bath Road, lived Walter Tomes, a Granite and Marble Merchant, with his wife Alma and his 23 year-old daughter, Kathleen.  Clearly, Alfred and Kathleen knew each other well, though we don't know at what stage they became engaged.
Alfred volunteered as a Territorial on 14th October 1909 at the age of 22.  Initially he was a Private in the 9th Battalion, County of London Regiment (Queen Victoria's Rifles) where he was in No. 2 Section, "C" Company.  His unit joined the British Expeditionary Force in France, embarking on 21st April 1915.  He soon was selected for officer training, and was commissioned Second Lieutenant in the 1st. Battalion Royal Warwickshire Regiment on 29th August 1915.  His unit formed part of 43rd Brigade, 48th (South Midland) Division.
The Division did not see heavy frontline action in 1915, so Alfred was able to take leave to enable his marriage to Kathleen to take place at the Baptist Church, Annandale Road, Chiswick on 8th October 1915.  In his Army Pay Book, his Active Service Will, in favour of "Miss. K Tomes", is dated 16th September 1915.
The Division was heavily involved in front line service from the commencement of the Battle of the Somme on 1st. July 1916. Alfred's service record suggests that he was attached to 10th Company, Machine Gun Corps, within the Battalion from 22nd December 1915.   He was granted leave at home between 13 to 22 May 1916.  Alfred was wounded on 1st July 1916, the first day of the battle.  The Division itself was involved in the Battles of Albert (1-13 July), of Bazentin (14-17 July) and of Pozieres (23 July), during which time the unit took heavy casualties and was withdrawn from the front that month.  Clearly his wounds, gunshot wounds to his right arm and head, were extremely grave, since after treatment at the No. 12 Field Ambulance and No. 19 Casualty Clearing Station on 2nd July , he was transferred to No. 3 General Hospital, Le Treport, on 3rd. July.   There he remained, dangerously ill until his death on 9th September, over two months later, aged 29.  He is buried at Le Treport Military Cemetery.
Alfred's daughter, named after her mother Kathleen, was born on 21 July 1916, so more than two weeks after the action that caused Alfred's grievous wounds.  We know from Kathleen's granddaughter, Ms. Mary Bennett, that knowledge of his wounds was withheld from her until after the birth.  As soon as she could afterwards, she travelled to France so that Alfred could see his child, but it was to no avail, as he died two days before her arrival.  Alfred left £1388 16s 2d. to his widow, who never re-married and died in 1987 aged 99 years old.  A memorial headstone to the Tomes family, including Kathleen, stands in Margravine Cemetery in Hammersmith.