2/Lieut. Henry Edward WYATT
Killed in Action 19 February 1917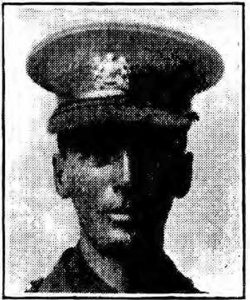 Henry Edward Wyatt was born in St. Heliers, Jersey, CI, on 16th March 1875.  He was the only son of Henry Hocart Wyatt, Paymaster, RN, by his wife, Charlotte Jane.  In the 1881 Census the family was to be found at 8 Florence Place in Falmouth.  Henry Hocart Wyatt was aged 43, Paymaster, Royal Navy on the active list. He had been born in St Peter's, Guernsey. His wife, Charlotte Jane was stated (improbably) as aged 22 (probably actually 42), born in St Heliers, Jersey. The eldest child, a daughter Edith, was a scholar aged 8, with the only son, Henry Edward aged 7;  the youngest daughter, Florence, was aged 5.  All had been born in St Helier.
By 1891, the family had moved to London, as a result of the death of the father, Henry Hocart Wyatt, in 1884. He had latterly a full active service career, serving in HMS Ganges"from 1879. He was transferred to HMS Audacious in September 1882 (flagship in the China Station) but developed Bright's Disease in April 1884.  Invalided home, he died on board P&O's SS Pekin on 16 May, two days before arrival in Aden.  His widow, now aged 54 at the 1891 census was visiting friends and relatives in Jersey, though the female children were at boarding school, The Naval School, which for girls was at St. Margaret's, Isleworth at Kilmorey House (only closed in 1940 and demolished in 1950). Henry Edward, who had been educated at the Royal Naval School at New Cross and Eltham, at aged 17 was an articled pupil of a House Agent and was boarding at Beauclerc Road, Hammersmith.
In 1901, the family, Charlotte and her son Henry Edward, and his younger sister Florence, lived at 53 Melrose Gardens, Hammersmith. He, at 27, was described as an Assistant Secretary, and Florence was a teacher of the deaf. In 1911 they had moved to Bedford Park, residing at 50 Esmond Road. Henry then described himself as a Private Secretary. He was unmarried.
Henry's peacetime employment seems to have developed from his House Agent training. We do not know when he became assistant secretary at Queen Anne's Gardens, his post in 1914.. This was a huge privately owned tall block of luxury flats and latterly a high class hotel as well. Situated in Petty France, Westminster it was the very first high-rise development in the city.  When it was first built in 1873  it extended to 10 floors and 116 feet in height, but later extensions attained 160 feet and 13 storeys. (See illustrations).  It gained notoriety (and heavy disapproval from Queen Victoria, whose view from the palace to Westminster was obstructed)  mainly from public concerns about fire safety in high-rise residential properties (for which there are now contemporary resonances).   It became the catalyst for the height restrictions contained in the London Building Acts of 1990 and 1894, named "the Hankey Acts" after the building's banker owner Henry Hankey.  It was the model for the "Wickham Mansions" of E M Forster's Howard's End . He described "Babylonian flats" with "spectacular luxury", and characterised the oppression and exploitation associated with the processes of redevelopment as a veritable "Tower of Babel".  One must presume that Henry Edward Wyatt merely acted for managing and letting agents in the enterprise!  Of residents at this time, Sir Edward Elgar, and Augusta, Lady Gregory were celebrities. The building was demolished in 1973 to make way for Basil Spence's now rather unloved 102 Petty France.
Henry Wyatt joined the Old Boys' Corps in September 1914, obtaining a commission in the Machine Gun Company on 22 July 1915.  In the early part of the war he remained at home in England. He is frequently mentioned in the parish magazine, as he became an honorary Lieutenant in the St Michael's Company of the 4th Cadet Battalion of the Middlesex Regiment and was actively involved with the cadets' training.  He even "entertained his brother officers and the Cadets at the Parish Hall to which he also invited the Choir boys. The tea, and pantomime afterwards was a great success. Mr. Wyatt's second attempt in this direction secured a 'full house'."
Henry served in the Indian Expeditionary Force in Mesopotamia, being abroad from October 1916.  The circuitous journey meant that he had only joined his company in mid December.   A series of letters that he wrote to a officer colleague in the Cadets were published in the Chiswick Times in the March after he had lost his life:
"29 December 1916.  I am writing this to you in a front line redoubt, where I have been for the past week, but thank goodness we are shifting tomorrow, as the rains have arrived, which means that the transport mules with rations find it too difficult to get up to us.  We have to live in large holes as dug-outs, as you cannot burrow under the earth, otherwise the roof would fall in and bury you, so we have to be content with the sky as roof.  … I fell in with my company … and within two days was in action with them.  It was not a terrible affair, but one of my gun team got wounded … The enemy we fear chiefly here is the Arab as he is very ruthless.  They have got some very fine horsemen, and are very daring.  The Turk's chief delight seems to be to send over a few shells, we don't worry much about them and give them a few in return, just to show that there's no bad feeling.  I fired my gun in the scrap the other day for a few rounds, just for a bit of fun, but with what results I don't know as Johnny kept pretty well to his trenches."
and:
"17 January 1917.  Have been up in the front firing line for the past week, and goodness knows when we shall get out of it again.  It is pretty warm up here with the bullets flying about – the snipers are the worst – they get on our working parties at night.  I have been out for the past two nights in charge of a working party.  At first I did not at all relish it, especially when I heard the machine gun firing in my direction, but I have got more or less used to it now, especially as so far, by luck, we have escaped casualties … It is a gloriously fine today, quite warm, and the Turk has not yet started his evening hymn."
Two days later Second Lieutenant Henry Wyatt was killed in action during the advance on Kut 19 February 1917.   He was buried near where he fell. His Commanding Officer wrote: "Your son was killed on 19 Feb. last, whilst superintending the construction of emplacements for machine guns which covered the crossing of the Tigris River on 23 Feb. His work necessitated exposing himself to enemy lines, and he was shot through the head by a sniper from the opposite bank of the river. Your son had joined this company on 18 December 1916, and was engaged in the heavy fighting east and west of the Hai River, which finally caused the Turks to retire from Kut, and during that short time had endeared himself to all his fellow officers and men of the company. His death was deeply regretted by all. Courageous almost to a fault, and a stern sense of duty made him a very valuable officer."
He is commemorated on the CWGC Memorial at Basra.  His name appears on both the Parish and Cadet Battalion plaques.