Major T. H. Weir MC
Killed in action, 8thMay 1918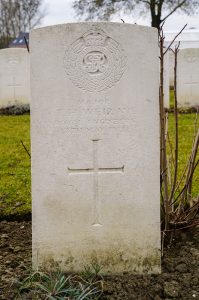 Thomas Henderson Weir was born in West Hartlepool on 13 February 1882, the son of James Johnstone Weir, a physician and surgeon, and Maria Cameron Weir nee Henderson of Jarrow. In the 1891 census, when Thomas was 8, he was living in Jarrow with his parents and his two brothers, John and David, and sister Maria. His service record shows him to have been attending Rutherford Memorial College, a school in Newcastle that was established in 1892 in honour of John Hunter Rutherford, a Presbyterian Minister. This college was eventually to become the University of Northumbria.
In the 1901 census, at the age of 18, Thomas is recorded still living in Jarrow with his parents and sister, whilst he was working as an apprentice draughtsman in a shipyard. He is reported to have been living in Chiswick in 1906, where he was described as professional naval architect.   On 10thJuly he was initiated into the St Bede 1119 Lodge of Freemasons at Jarrow, where his father had previously been initiated in 1892.  On 18thOctober 1906, he married his wife Alice Rumbelow at the Parish Church in the Parish of Acton.  In the 1911 census, Thomas' parents are said to have been living at Craigie Lea, Jarrow with his sister, Maria, who was, at the time, 31 years old, single and a dispensing chemist.  We cannot be sure where Thomas and Alice lived after the marriage.  We know from a letter Alice wrote to the War Office in 1921 from 91 Rusthall Avenue, Bedford Park that they had a daughter born in 1908, though her name is not given in the letter.
Thomas's service records show that he served for a time in the Northumberland Hussars, Imperial Yeomanry but was discharged in 1906 on moving to London.  It is not clear whether he would have served in the Second Boer War (1900-1902).  According to the death notice in the Newcastle Journal of 16.05.1918, in 1914 Thomas endeavoured to enlist as a private, but was initially refused. Instead, he applied for and received a commission in the Royal Engineers, Territorial. The Jarrow Express reports that Thomas "went to France in 1915," and in 1918 he was awarded the Military Cross.    The Jarrow Express wrote how "Letters from local engineers to their friends reveal that the men were much attached to Major Weir who was killed by being struck by shrapnel." An article in the Northern Echo for 1.10.1920 reads, "It was reported at the Jarrow Education Committee monthly meeting that last night Dr J.J. Weir had given a prize in memory of his son, Major Thomas Weir, who was killed in the war, to be awarded annually to the boy in the senior form of [ Jarrow Grammar School ]who, in the opinion of the trustee, has done the best work during the year in engineering and cognate subjects." The prize was awarded until 2010, when the school closed.
Major Thomas Henderson Weir is remembered at Chocques Military Cemetery in France as well as in the Jarrow Cemetery on a family headstone, as shown below.
Little further is known about his widow Alice or his daughter.  Alice seems to have had a nephew, Edwin Rumbelow, whose name appears on Thomas's Medal card and may have received his medals and awards: British War medal with oak leaf, 1915 Star, and Victory medals, together with his Military cross
His brother Major Acting Lieutenant Colonel David Henderson Weir RAMC was also awarded the M.C. in 1919.
Freddie Maud