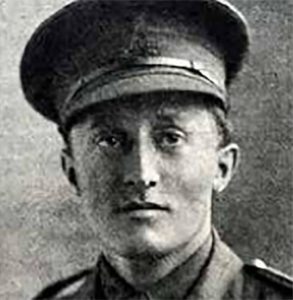 Second Lieutenant Cyril Francis WEBB
Missing presumed Killed 25 September 1915
Cyril was born in Balham in 1890. He was the third son of Thomas Henry and Alice Webb. In 1901 the family lived in Clerkenwell. Thomas was a Bank Manager, Cyril, a schoolboy. We know that he attended the Merchant Taylors' School, Northwood. He was a talented mathematician coming top of the Maths examination in 1905 with 250 out of 300.
In 1912, they had moved to Chiswick, and was listed on the Electoral Roll as living at 27A Blenheim Road. We do not currently know Cyril's occupation.
His Medal Card shows he was originally a Sergeant in the Artists Rifles, 28th London Regiment, having enlisted as a Private at the outset of the War.  The battalion became an officer training unit.  Cyril was commissioned as 2nd Lieutenant 10 June 1915 and transferred to 2nd Yorkshire Regiment, the Green Howards. The Battalion had first embarked for Zeebrugge on 26 October 1914, so Webb  was a later replacement officer. It formed part of the 21st Infantry Brigade.   Cyril joined the 2nd Yorkshires at Les Harisoirs just after the Battle of Givenchy.
Lt Webb and the 2nd Battalion spent July and August around the La Quinque Rue and Richebourg St Vaast sectors.  The battalion were at Vermelles when the Battle of Loos opened and on the first day, September 25th, Lt Webb with "B" company attacked the cross roads on the north east corner of the village of Hulloch.  It was in this action that Cyril was killed – he  was posted missing at the end of the day and his body was never found.
Loos was the largest British offensive of 1915 on the Western Front and the first time that the British employed poison gas. It was also the first mass engagement to make use of Kitchener's volunteer army. It was an attempt to break through the German defences in Artois and Champagne and it saw other tactics such as tunnelling and laying mines under the German trenches. It was to prove a familiar story – an insufficient preliminary bombardment leaving the German wire intact and poison gas doing as much damage to British lines as to the German. On the 25th September, the British advanced over open fields and suffered devastating losses in the face of German machine guns and artillery. Even where breakthroughs were made, communications were so poor that the British High Command failed to deploy resources to follow them up.
He has no known grave, so commemorated, like other Bedford Park volunteers at the Loos Memorial. He is listed in Chiswick Roll of Honour Feb 1915 (of all volunteers) as in "Artists Corps".