Private Frank William MURLIS
Missing presumed Killed 24 April 1918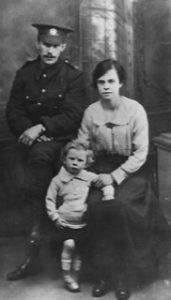 Frank William Murlis was in  born in 1885 at Notting Hill, West London London.  His parents were Charles Murlis, born in Somerset, a postman, and  Elizabeth, born in Wimbledon.  In 1891, at the age of 6, Frank and his family were to be found in Chiswick.  They had three other younger children – Helen Alice, born in 1886, Charles Edwin (1889) and Thomas George (1890).  They lived at 2 Willow Cottages, within the parish of Christ Church, Turnham Green.  Ten years later were at 2 Fishers Lane.  At that stage Frank had started work as a builder's clerk and Helen was a dressmaker's apprentice.
In 1911, the family had moved to 68 Cranbrook Road, Chiswick.  Helen, at age 25, was no longer there.  She had married Alfred Insley in Hampshire in 1905.  Charles junior and Thomas worked in the motor trade.  Frank was now a salesman for a firm of clothiers.  On 16 March 1913, he married Emily Dimberline, a pattern maker's daughter who lived at 17 Upham Park Road.  The ceremony was conducted by Rev. J Cartmel-Robinson at St Michael and All Angels, Bedford Park.  Their son, Victor Murlis was born on 25 November 1914, in West Ham, Essex, where presumably the couple moved after their marriage.
  Little is known about Frank William's war service.  His Medal Card suggests that he may have volunteered early on, as his regimental number for the Essex Regiment is low at 2890.  This suggests that if he attested for a territorial Battalion in would have been about December 1914.  Frank William's grandson, Andrew, (who generously supplied his family portrait showing Frank with Emily and their young son Victor, then aged about 3) suggested that Frank had undergone cyclist training, and would have thus joined the 8th (Cyclist) Battalion, Essex Regiment.  Its Companies were initially assigned home  defence duties posted at various parts of the county's coastal areas.  Much later in the war, in late 1916, the battalion was disbanded and re-structured, its original men being re-assigned as Cyclists to various other regiments.  Front-line cycle duties were seldom effective under the conditions of trench warfare, so they were quickly absorbed into normal infantry tasks
The same medal card states that he later became a Private in the  2nd. Battalion,   Northamptonshire Regiment, with number 205009, 24th brigade, 8th Division.   His name is not included in the Regimental Roll prepared in 1916, and this is consistent with his apparent overseas service.  All we can say is that his new battalion campaigned in 1918 at The Battle of St Quentin, The Actions at the Somme crossings, The Battle of Rosieres, and the Actions of Villers-Bretonneux, in the Somme.  It is at the latter action that Frank would have been killed.
The Allied Counter-attack took place on the night of 24/25 April, and "zero hour" was eventually set for 10:00 p.m. The operation began, led by two Brigades of Australian troops with German machine gun crews causing many Australian casualties. The two brigades swept around Villers-Bretonneux and the Germans retreated, for a while escaping the pocket along a railway cutting. The Australians eventually captured the German positions and pushed the German line back, leaving the German troops in Villers-Bretonneux surrounded. The British units in support attacked frontally and suffered many casualties. By 25 April, the town had been recaptured and handed back to the villagers.  The battle was a great success for the Allies, who had defeated the German attempt to capture Amiens and recaptured Villers-Bretonneux while outnumbered; the village remained in Allied hands to the end of the war.
Private Frank William Murlis's body was never recovered.  He is remembered at the Pozieres Memorial to the Missing which commemorates the names of nearly 15,000 casualties of the United Kingdom and of the South African Forces. These casualties died on the Somme battlefields from the dates of 21 March 1918 and 7 August 1918.
Frank's widow, Emily, will have received his British and Victory medals, sadly now lost.  She remained in Essex with her son Victor at Southend-on-Sea.  She re-married to Earnest Wingrave in 1921.  She died in 1981.  Victor died on 24 September 2010 in Southend-on-Sea, leaving his own son, Andrew, who in his turn also has a son, Victor Carel Murlis.