Pte. WILLIAM ATKINSON
Missing presumed Killed 26 September 1915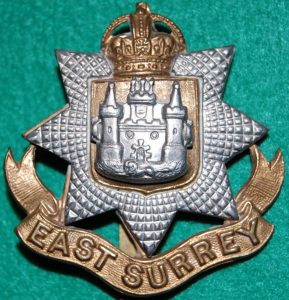 WILLIAM ATKINSON, born about 1899 in North Woolwich, was the fifth of the seven sons of Andrew S Atkinson and Florence Atkinson nee Partridge. Andrew (senior) had been a Police Constable and the family had grown up in Manor Park, East Ham where he worked his beat. In 1911 however, having retired from the force, he had taken up a post as Night Watchman at a firm of Builders Merchants in Chiswick. By then, after 28 years of marriage, Florence had borne 13 children, three of whom had died in childhood. The 7 roomed terraced house at 16 Holly Road accommodated ten people, including a female lodger who worked locally as a laundress, just like the eldest daughter, Rachel, also.
William was a schoolboy of 13 in 1911. As soon as he was old enough, or even before aged 17, he volunteered, and joined "The Gallants", the 9th Battalion of the East Surrey Regiment. This Battalion was raised at Kingston-upon-Thames in September 1914 as part of Kitchener's Third New Army and joined the 72nd Brigade in the 24th Division.  It took six months to find the men proper uniforms, and rifles were not available before June 1915. In mid-August they were paraded in front of Lord Kitchener and then King George V. Within weeks the men were posted to France assured that they would only be used in a situation where the enemy was already beaten. They entered France at Boulogne only on 1st September 1915, and marched across France into the reserve for the British assault at Loos. They joined the attack on 26th September, and suffered heavy losses.
An account of the battle includes:
"With the remaining available battalions of the 24th Division joining the assault, the line pushed on encountering artillery fire at point blank from Hulluch as well as the indignity of being shelled by drop-shorts from their own artillery. By about 1300 hours the ever-thinning line were almost at the German wire — which was uncut. Some respite was gained by lying down in the long grass that obscured them from view, but it was obvious to the surviving officers that the 21st Division were falling back and that Hulluch was still in German hands. About 1330 hours the remnants of the 72nd and 71st Brigades began to retire.
"The battlefield calmed with the thousands of British dead and wounded lying out on ground that remains today open green fields. The Germans didn't even bother to pursue".
An eye-witness, Pte. John Thomas Noe, who was taken prisoner at Loos wrote:
"Looking back to 26th September, 1915 with a chill running through my veins, I recall the night or rather the early evening that I was put out of action. Under heavy shell fire, shrapnel flying all around us, I was very badly wounded and had to remain where I had fallen until five days had elapsed."
William was "Presumed Dead" after the attack. His body was again never found. He is commemorated on the Loos Memorial, Panel 66. He was the second of the two sons lost to Andrew and Florence Atkinson in the Great War.  An elder brother, Andrew Partridge Atkinson had died in 1914.