Gunner Benjamin Alfred CROOKENDEN
Died of Wounds 11 January 1918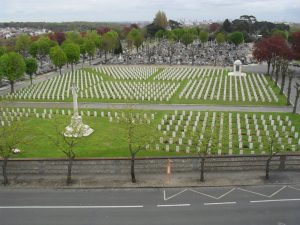 When Benjamin Crookenden married Eva Nellie Gladys Morgan at St Michael and All Angels Church on 23 August 1913, he was an Optician, aged 32 and she a dressmaker, aged 26.  At that date he had been living at 39 Fielding Road, and Eva at 30 Whellock Road, both in Bedford Park.  His mother Eliza, by then a widow, and a witness of the marriage, was aged 71 and lived in Hammersmith.  Her late husband, Henry Barton Crookenden had been a Police Sergeant, and latterly a Sanitary Inspector and had died in 1893 after 37 years of marriage.  It had been a large family, and Benjamin had six elder siblings including four brothers.  In the Census of 1901, he and his mother lived at Southerton Road, Hammersmith together with two younger sisters, Marian and Florence.  Then, at aged 19, he worked as a Ledger Clerk.  By 1911, he was absent from the Census, but Eliza and her daughters could be found at 63 Biscay Road, Hammersmith.
Benjamin and Eva Nellie eventually settled at 3 Melrose Road, Barnes where their only daughter, Mary Eva was born on 28 July 1915.  She was baptised at St Michael and Angels by Father Cartmel-Robinson on 29 August.
It is not known when Benjamin will have enlisted.  He would have registered when conscription was introduced in 1916.  His Medal card indicates he enlisted as Gunner 153319 in the Royal Garrison Artillery but at the age of 35 he would probably at first have  been posted to a reserve or a Home Defence unit.  Later he was posted to 248 Siege Battery, which landed in France on 16 February 1917.
Siege Batteries RGA were equipped with heavy howitzers, sending large calibre high explosive shells in high trajectory, plunging fire.  As British artillery tactics developed, the Siege Batteries were most often employed in destroying or neutralising the enemy artillery, as well as putting destructive fire down on strongpoints, dumps, store, roads and railways behind enemy lines.
Unfortunately, although official War Diaries were kept for all Artillery units, just as in Infantry units, much of that from 248 Siege Battery is missing from the archive, so it is not possible to determine definitely where it was deployed in the first part of 1917 nor after November 1917. However, it is thought it would have be involved in the battles of the Messines and Vimy ridges.  In  September it was certainly attached to 1 Anzac Corps as part of the 5th Army in the Ypres sector of the Western Front.  It would have been active in providing part of  the artillery support for the costly but successful attack at the Menin Road , and then at Polygon Wood and Zonnenbeke.  In October, the Anzacs attacked on the Broodseinde Ridge against strong enemy artillery bombardment – again a costly success for both Infantry and Artillery of the Allied troops.   In the latter engagement, its Battery Commander was award of an MC when gun crews were casualties:  
"After two of the No.1's had become casualties he himself acted as No.1 on one of the guns. Later, after dark, when one of the guns was hit and the ammunition set on fire, he, assisted by the No.1 of the gun, succeeded in extinguishing the fire".
It seems likely that  Gunner Benjamin Crookenden would have suffered his fatal wounds in this final act in the 1917 campaign in October .  In November, the battlefield had become a sea of mud that rendered further action impossible, both sides adopting defensive positions for the Winter, with sporadic shelling of those positions continuing throughout, so alternatively it is possible that he may have been wounded in this early winter "lull".  He died on 11 January 1918, at a base hospital at  Le Havre, probably at No. 2 General Hospital, having initially had treatment at the usual Field Ambulance and Casualty Clearing Stations nearer the front.  He is buried at Ste. Marie Cemetery, Le Havre, in Plot Div.62.I.N.3.  The headstone inscription reads: 
 " God's finger touched him, and he slept."
He was aged 37.  After the war, Eva Nellie Crookenden and her daughter Mary Eva moved to Herne Bay, Kent.  Mary married Sidney Keen in High Wycomb, Bucks. in 1937.