Capt. CHARLES CECIL BROOKS WARD
Died of Wounds 11 January 1917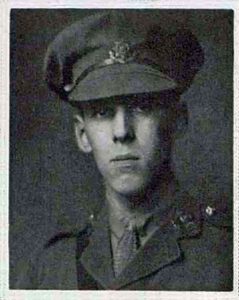 Charles Cecil Brooks WARD born 23 June 1891, and Ada Mary Brooks WARD, 1895, were the children of Charles Henry WARD, a Dried Fruit Broker and Ada Gertrude (nee Brooks).  The family were living at 13 Burnaby Gardens, Chiswick when both children were baptised in the parish of Turnham Green with Gunnersbury.  Charles Cecil's baptism was on 10 April 1892.  Charles Henry Ward had been born in Coventry in 1856, and his wife in Abingdon, Berkshire in 1866.  They were married at St Andrew's Church, Fulham in 1890.  Ada's father was the Victorian portrait artist, Henry Jamyn Brooks.
In 1901, at the census the family were living at 30 Queen Anne's Grove, Bedford Park.
Charles Cecil Brooks Ward was educated at St Paul's School.  Subsequently he worked for a time as a clerk with Messrs. Ward & Mills, Rood Lane EC, his father's firm of dried fruit importers.  He enrolled as a Private in the Honourable Artillery Company in 1912.  His Battalion was mobilized in August 1914 and on 27 November 1914, aged 23, he was gazetted temporary Second Lieutenant, initially serving in 9/East Yorkshire Regiment. He was first actively engaged on 15 September 1915, in the Dardanelles.  When he was promoted to Lieutenant he was attached to the 7th Battalion North Staffordshire Regiment soon afterwards.  After evacuation from the Dardanelles, his unit was posted to Mesopotamia arriving there on 13 March 1916.
Charles sustained gunshot wounds of the left arm on 5 April and invalided to India.  He returned to his unit in the field on 6 August, assuming temporary command of B Company as Acting Captain reverting to Lieutenant on 25 November on appointment of a more senior officer.  He obtained his fatal gunshot wounds to the head on 19 December 1916, initially treated at 41st Field Ambulance and then 31st Field Hospital, being finally admitted dangerously ill to No. 2 General Hospital Amara on 7 January 1917.
He died of his wounds on 11 January 1917, aged 25.  Charles is buried at Amara War Cemetery, Al Amara, Maysan, Iraq.  Initially at Plot XIII, B3.  In the 1930s all individual headstones in the cemetery were removed because salts in the soil was causing them to deteriorate.  A screen wall was erected with the names of all those buried at the cemetery engraved upon it.
A few months after Charles had lost his life in Iraq, his sister Ada Mary married Lieutenant Eric James Blair Leighton, in Kensington.  Eric himself was an artist, and the son of Edmond Blair Leighton, one of the better known Bedford Park artists, who had lived for a time, two doors down from the Wards at 26 Queen Anne's Grove, and later at Priory Road.  He was a prime mover in the construction of the Bedford Park War Memorial Seat.
Charles Henry and Ada Gertrude Ward moved away from Bedford Park during the war to Sutton Court Road.  His formal address registered by the CWGC in respect of his son's war death was 16 Rood Lane, Fenchurch Street, but the medal card confirms that his son's medals, 14-15 Star, War and Victory, were sent to his address at 58 Sutton Court Road, Chiswick on 24 June 1921
Eric and Ada Mary Leighton's daughter Sancha M Leighton was born in Kensington in 1922.  There may have been more children.  Ada Mary died in Battle, Sussex in 1969, aged 74, and Eric Leighton (born 1886) died in Battle in 1976.