Private Charles William CARDER
Killed in Action 1 October 1918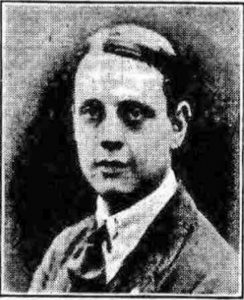 Charles William was born on 12 January 1900 in Acton.  He was the eldest son of Charles John Carder 42 Bridgman Road South Acton by his wife, Amelia, daughter of Alfred Bloomfield.  They had married in Richmond on 12 July 1899.  Charles William had two siblings: Leslie Alfred, born in 1902, and Sydney Herbert, born 1903.  They lived initially at 39 Osborn Road in South Acton but by 1911 the family had moved to 42 Bridgeman Road, Chiswick.  by then the father was a Jobbing Gardener aged 32.  Previously he had been a florist.  By 1914 he was a carpenter.
Charles William was educated at Beaumont Park School, Acton Lane.  This had opened in 1891 for 300 Boys, 300 Girls , and 428 Infants.  It closed after the second World War but became Acton Green Middle School from 1976.  It was demolished it about 1995 and the land re-developed as housing.  After leaving school, Charles became a Cabinet Maker.
According to the War Graves Commission, Charles William was married to "Kitty" Emily Elizabeth Raggett in the first quarter of 1918, straight after his 18th Birthday.  However, according to De Rufigny, a post-war publication of biographical notes usually submitted by families of the war dead, he was unmarried.
 Charles William enlisted in January 1918, just after his 18th birthday.  He became Private 70304, 11th (Service) battalion, The Queen's (Royal West Surrey Regiment.  His father, Charles John had also enlisted in the 26th Battalion, Middlesex Regiment at the age of 37 in 1916.  He survived the War and probably, because of his age, was not called upon to undertake front line service. 
Charles William served in Flanders from 14 August 1918 onwards.  The Battalion  formed part of 123rd. Brigade, 41st Division.  In mid September they were in position near Ypres at the "Final Advance" that commenced in Flanders on 25 September.  On 1 October 1918, the Battalion had just been involved in the 123rd Brigade attack from Kleine Zillebeke towards the Comines Canal on 28/29 September  where elements of the Brigade reached the Comines Railway, taking prisoners and guns.  In advancing towards Tenbrielen, on the day of his death, he was in the Battalion's "C" Company .  Many of the whole of the Brigade were shelled heavily at Tenbrielen Crossroads.  In in the late afternoon, in position at  Gheluwe, the Battalion attacked again towards the final objective, meeting further fierce resistance from machine guns.  It is not possible to say in which of these movements Charles was killed.
Pte. Charles William Carder is buried and commemorated at Hooge Crater Cemetery, at Plot XVII.F.16.  He will have been awarded the British War and Victory medals.  He was aged 18.  He had no children.