L/Cpl Robert Peter WHITTLE
Killed in Action 18 April 1917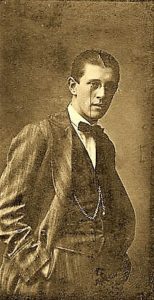 Robert Peter Whittle was born in Eniskillen, Co. Meath, Ireland in December 1886.
His parents were Robert William Whittle and Elizabeth nee Wrench. The father had been born in Blackburn, Lancashire in 1863 and at the age of 20 he gave up his work as a picture framer to join the newly formed East Lancashire Regiment in 1883. He had married Elizabeth in Blackburn in December 1880.
The couple had ten children, 7 boys and 3 girls. Robert Peter was the fourth son, the first to have been born in Ireland where Robert William had been posted in 1885. The family were there until 1893, and after a short posting to Gibraltar, where the second daughter Edith May was born the same year, they returned to Lancashire in 1895. The family was recorded in the 1901 census living at the Military Barracks, Cavalry St., Burnley until RQM Sergeant Whittle was pensioned from the army in 1905 with a long service medal when he became the landlord of the Cross Guns Hotel, Church, near Accrington.
We do not know when Robert Peter went to London. At the time of his marriage to Lily Maud Davey on 3 July 1910 he was living at 53 Lupus Street, Pimlico. He is recorded as being a Clerk aged 23. In 1911, the census year, they had moved to live with Lily's widowed mother Ellen Davey at 51 Franciscan Road in Tooting. They had a four-month-old son, John Kenneth Robert. At that time, Robert worked as a "corresponding and general clerk" for an agency that imported French embroidered goods. At some time before the start of the war the family moved to 21 Flanders Mansions, Flanders Road, Bedford Park. This may have been after Robert became the Advertising Manager for The Gramophone Company.
When the War came, Robert Peter Whittle joined the Worcestershire Regiment. We don't know whether or not he had volunteered– he is recorded as being a Lance Corporal in the 1st Battalion, no. 34727 having been enlisted as a Private. His medal card shows only the War and Victory medals, so he may well have been conscripted in 1916. He served in France until his Death in Action recorded as on 18 April 1917 near Nurlu, NE of Peronne. The front line had advanced in response to the German gradual retreat towards the Siegfried line at that time, and the battalion had just finished front line duty near Heudicourt. They had returned to billets in the rear. The war diary for the day simply reports that a dugout had been blown up by a mine, killing 5 "other ranks". This tally must have including L/Cpl. Whittle. Buried where they fell, after the post-war concentration of graves they were exhumed and re-buried at the Peronne Communal Cemetery Extension.
Lily Whittle did not remarry. She remained in Bedford Park with her son John until the latter's marriage to Constance Wood in Cheam in 1939. She survived until 1964, living at last under her son's roof again.
Robert's youngest brother, Walter also served in the war. He was enlisted in the Royal Field Artillery, 150 Brigade, as a driver and was Killed in Action in France in May 1916. He is buried at Cerisy-Gailly Military Cemetery, Albert. A photograph of his temporary burial cross is in the gallery.