Lt.Col. Harold George Fairfax  LONGHURST
Killed in Action 12 October 1917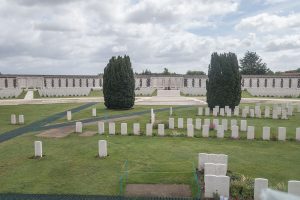 Harold was the youngest child of Dr. Arthur Edwin Longhurst and Sophia Harriet Longhurst, and was  baptised at  St George Hanover Square on  6 October 1888.At the  1891 Census, the family resided at 4 Eaton Square, Knightsbridge.
Arthur E J Longhurst  was then aged 59, a  Registered Medical Practitioner, born at Kirkby  Mallory, Leicestershire.  His wife was  Sophia Harriet Longhurst, age 47,  born Madras, India.  He had been a member of the Army Medical Services serving from 1854 until 1865 when he retired on half-pay.  Presumably he continued in civilian medical practice.  The couple had seven children.
Arthur Lyster Longhurst, was born in Leicestershire in 1872.  Edward Becher was born in 1874 in Weymouth, Dorset,  Frederick William born  in Witham, Essex in 1876, and   Edith Sophia, born in  Wilton St, in 1878.  Nothing else is known about the four eldest siblings.
Cyril, age 12 in 1891 was born in Wilton St, Pimlico, as was Gerald F, born 1883, and of course the youngest, Harold in 1888.  In 1911, Harold was a 22 year old lodger at 22 Moore St, Chelsea, listed as a Clerk in the office of the sub-committee of Imperial Defence.
In 1911, The father, Dr Arthur, lived at "The Homestead", Chandlers Ford, Hampshire, whence he applied for his late son's medals on 13 December 1921.  He died there 1925.
Harold George Fairfax Longhurst  enlisted from an OTC from the outset of the war, and was gazetted Second Lieutenant on 12 September 1914.  He was promoted  to Lieutenant in the  6th Battalion, Royal (Princess Charlotte of Wales's) Berkshire Regiment,  53rd. Brigade, 18th Division.  He was first in action in  France on 26 July 1915.  He was soon promoted to Captain. There was little by way of first line action during 1915 – he was able to take short leaves in England in November, and again in April 1916.  On the first day of the Battle of the Somme he was slightly wounded in action near Pommiers Redoubt near Montauban, fought in an unsuccessful attack on Delville Wood, and was again wounded at the Schwaben Redoubt near Thiepval in the October.  At the beginning of 1917 the battalion took part in the Ancre operations, near Miraumont.  It moved to Flanders in July, and Harold became the commander of the battalion in August, being in action in the Battle of Pilkem Ridge around Glencorse Wood.   He was promoted T/Lt. Colonel by the time of his death, at the First Battle of Passchendaele , killed in action 12 October 1917 at age 29.  He sustained a direct hit from a shell attack on his Battalion HQ , in the front line, a little  west of the main action.  His body was never recovered.  The Battalion fared extremely badly, and was forced to retreat to its starting position.  His adjutant took command, but was severely injured almost immediately in the fierce counterattack. Harold is commemorated at Tyne Cot Cemetery, Panels 105-6 and 162.  In due course, his father received his 1915 Star, GSM and Victory Medals.
In 1911, Cyril lived as a Civil Servant  (32) with wife Eva (31) and son Mervyn Lyster (3) at 43 Avonmore Road London, Holland Park.  He eventually became an Assistant in the War Cabinet, and was awarded a CB, in the King's Birthday Honours of 1917- incidentally the same time as that awarded to a Treasury Secretary, John Maynard Keynes.  He was the executor of Harold's will in April 1918.  He survived until 1948.
In 1911, Gerald Fortescue Longhurst was a Naval Officer, Lieutenant in HMS "Cumberland".  His career continued throughout the war.  In 1914 he was found as Lieutenant Commander aboard HMS "Lion",  under Admiral David Beatty.  He was present at an action at Dogger Bank in January 1915, and mentioned as having "controlled the armament with remarkable coolness by which he inspired confidence in those under him".   He was promoted to Commander, and was awarded the Russian decoration: Order of St Anne, 3rd Class.  In ADM 171/78, a dispatch dated 23 August 1916, he was recommended a DSO by the C in C Grand Fleet:  "He is the Gunnery Officer of my (Admiral Beatty's) Flagship.  He controlled the fire of 'Lion'  with greatest courage, coolness and skill and inflicted immense damage on the enemy.  This is the third time he has controlled the fire of 'Lion' in Action."  The decoration was gazetted  on 15 September 1916.   In 1920 he was aboard HMS "Carnarvon".  He sadly died in that year in Devonport Naval Hospital aged 37.
It has not been possible to establish a connection with the Longhurst family in Chiswick or Bedford Park.