Pte Thomas Edward HEATH
Missing presumed Killed 27 July 1916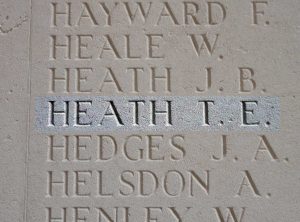 Thomas Edward was born on a 26 February 1898 and baptised at St Michael and All Angels by the curate Rev. Alexander Sharpe on 16 March when just three months old.  He was a younger brother of Samuel William Heath, whose parents were George Alfred and Jane Heath.  At the time, the family lived at 63 Windmill Road, Chiswick, near the Back Common.  The Heaths were very long standing residents – the grandparents had also lived in Chiswick.  George was described as a Bricklayer's Pointer.  In 1901, at the same address, they were two doors down from the Gould family, who later were to lose three sons in the Great War.  In 1910 Mr George Heath died, and by 1911 his widow Jane had moved to 61 Swanscombe Road, on the south side of the High Road in the parish of St Nicholas.  In the 25 year marriage she and George had produced 12 children, 4 of whom had died in infancy.  The youngest, Jennie, was still only 4 months old.  Thomas was still at school, at age 13.
Thomas became 18 in February 1916, and would have probably have been conscripted straight away. There would have been at least 3 months of military training before he was allocated from a reserve regiment to 1st. Battalion, the Devonshire Regiment.
The Battalion had fought in Flanders in 1914 and 1915.  It moved to the Somme in July 1915.  In March 1916 it had taken over a section of front line near Arras.  When the offensive began on 1st July 1916 the Devons returned to the Somme, to consolidate the line around Longueval.  Shellfire and German counter-attacks cost them 265 casualties.  Towards the end of the month it was involved with the actions around High Wood and Bazentin.
Thomas would have been killed in action during this period.  he died on 27 July 1916, probably as a result of the fierce shell fire.  His body was never found.  He is therefore commemorated at the great British Memorial at Thiepval, on Pier and Face 1 C.  He will have been awarded the British and Victory Medals.  He was the first of the two sons that Jane lost to the War.  Samuel William was killed at the Somme  on 6 October 1916.