Pte Reuben Gregory
Died of Wounds 2 October 1917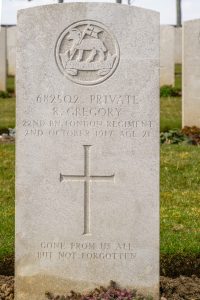 Louisa Victoria Gregory, Reuben's mother, was born in 1871. She was the youngest daughter of John Whittick, and the sister of Richard Whittick, the greengrocer whose son, William John Whittick also died in the First World War. The full story of the this long-standing Chiswick family is set out in William John Whittick's biography. She in 1881 was aged 10, a schoolgirl living at the family home at 4 Fishers Lane. She married at the age of 20 to Reuben Gregory, a 23-year-old coal man from Hammersmith, at St Peter's Church Hammersmith on 13 April 1889.
Between 1889 and 1907, between them they had four daughters, Ellen, 1891, Florence, 1894, Rose, 1899 and Clara, 1905. Their only son, Reuben John, was born on 25 July 1896. He was baptised by Rev. Alexander Sharpe at St Michael and All Angels Church, Bedford Park on 21 August. At the time, the family were living at 212 Chiswick High Road, at the home of Richard Whittick, Louisa's brother, the greengrocer. Reuben Sr. worked as a Carman for his brother-in-law. Sadly, Reuben Gregory Sr. died in 1907. By 1911, the family , headed by Richard Whittick lived at 408 Chiswick High Road. Reuben at the age of 14 was assisting in his uncle's business. His cousin, John William Whittick had set up his own greengrocery elsewhere.
We do not know at what stage Reuben entered the army. He may have volunteered early on in 1815, as his Medal Card gives a very low first Service Number of 5251. There is a suggestion in the existing records that he may initially served in the 5th Battalion, Royal Fusiliers, a training battalion that never served overseas. It seems likely that he was transferred with a Service number 24977 to a draft of reinforcements to the 22nd Battalion, London Regiment (The Queen's).
In 1916, the battalion fought during the German attack at Vimy Ridge, and on the Somme in the Battle of Flers-Courcelette, capturing High Wood, the Battle of the Transloy Ridges in which they captured Eaucourt l'Abbaye and the attacks on the Butte de Warlencourt. In 1917 they were in action in the Battle of Messines, the Third Battle of Ypres. It will have been in the latter campaign that Reuben would have sustained his fatal injuries. As his War Gratuity document confirms, he was cared for at the 19th Casualty Clearing Station, consistent with his internment at Duisans Cemetery, Etrun.
Louisa Gregory will have received her son's War and Victory medals, and the War Gratuity of £7 at her post-war address of 27 Fishers Lane, Chiswick. She asked that his headstone should be inscribed: "Gone from us all but not forgotten".