Capt. Maxwell MALLALUE MC
Killed in Action 24 August 1916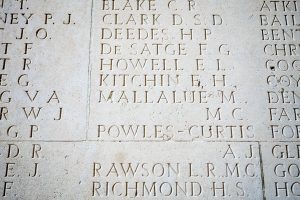 The birth of Maxwell Mallalue was registered in Redhill District for the fourth Quarter of 1878 before he was baptised at St John's Redhill on 26 January 1879. His parents were Albert George and Ann(ie), nee Boyle, Mallalue. The latter's full maiden name had been Ann Jane Gurney Boyle, a sister of Sir Edward Boyle, KC, 1st Baronet. By 1881, the Mallalue family had moved to 35 King Henry's Road, Hampstead.  Maxwell's siblings were Ethel b.1870, Beatrice 1873, Ruspini, 1876 and Noel Boyle, 1877.  The census of 1891Maxwell was a scholar boarding at 24 Bancroft, Hitching Herts., the home of Revd. John Rice, schoolmaster, with 3 other pupils.
It appears that two brothers had travelled to South Africa:  it is recorded that Maxwell served in the Matabele Campaign of 1866/7, and both he and his elder brother Noel served during the Boer War in the Cape Mounted Rifles.  Maxwell was awarded both King's and Queen's medals for specific campaigns: Mafeking, Orange Free State & Transvaal.
By 1911, Albert Mallalue had moved to 7 Esmond Road, Bedford Park.  There he lived with his daughter Ethel and her husband, Paul Seligman, and her children Beresford, aged 11, and Muriel, aged 8. Noel was in lodgings nearby, in Ravenscourt Park.  By the end of the war, the family home had moved to 93 Esmond Road.
Maxwell commenced a career in mining.  He briefly worked in Denver, Colorado about 1905, but moved to Vancouver, British Columbia, where he married Jane Dixon in January 1912.  Jane's parents had emigrated to Canada from Yorkshire: Joshua Dixon had married into a well-to-do family called Spencer, which explains how Maxwell's name appears in a commemorative window at Christ Church, Lothersdale near Skipton.  The couple had two children:  Margaret Jean (1913) and Robert Edward (1914).
Maxwell had volunteered  in 1909 as a part-time Territorial in the 6th Duke of Connaught's Regiment of Infantry, Canada but by early in 1914, Maxwell had gained the rank of Lieutenant in A Company, 11th Regiment, Irish Fusiliers of Canada, perhaps a successor territorial unit. On 2 September in that year he enlisted at Camp Valcartier in 7th Battalion (1st British Columbia) CEF: his Will was dated at Valcartier, 14 September 1914. His unit subsequently embarked on the 'Virginian' to arrive in England on 14 October 1914. The grant of a commission as temporary Captain in King's Royal Rifle Corps followed on 7 December 1914 in the 9th. Battalion.  His unit came under the orders of 42nd Brigade in 14th Division.  It embarked for Boulogne on 20 May 1915.
The Battalion was engaged first in the Front Line at St. Eloi in Flanders.  According to the War Diary, Capt. M Mallalue, D Company "…was shot 5 minutes after reaching the trenches, through the forehead, a bad wound, but he was still conscious and could talk and see clearly when evacuated."  Recovered, he returned to the Battalion in mid-August.   At Bellewaerde Farm in September, the Battalion went to the support of the 9th Rifle Brigade, who had obtained a footing in the German second-line trenches. They had a hard fight, chiefly bombing on both sides, and lost 5 Officers killed.  Among the 191 wounded was Maxwell.  In that engagement he was mentioned in dispatches and awarded the MC, gazetted in January 1916.  Again he recovered well, and rejoined in command of C Company in mid-February 1916.
9th Battalion, King's Royal Rifle Corps saw no active service in the Somme Campaign until mid-August 1916, when it moved to the front at Montauban and Delville Wood.  The War Diary set the scene at 20th August:
"Delville Wood lies immediately adjoining the village of Longueval.  To the East is Ginchy, a small village held by the enemy.  To the South East, Guillemont, a somewhat larger village now being fought for.  Away to the NW is High Wood, the scene of many a fierce struggle, the possession of which is still debated.  Delville Wood itself has been the scene of fighting since 14 July.  On 20 August we hold a line running through the wood, and the enemy within and parallel to the N and NE edge.  The ground is pitted everywhere with shell holes and strewn with fallen trees and branches.  Longueval is dust and craters and both Longueval and the Wood are carpeted with the remains of bodies and discarded munitions and material of war, both German and British."
The Action at Delville Wood on 24 August 1916 is described in a contemporary report and the map in the accompanying gallery.
"At 3.45 p.m., on the 24th August, a bombardment of our heavy artillery started, which fire was replied to by the Germans. At 5.45p.m. C and D Companies advanced to the attack, and at the same time A Company moved from the support trench (Devil's Help), and re-formed in Devil's Trench, ready to advance. The distance from Devil's Trench to the first objective varied from 250 to 300 yards. The ground was pitted with innumerable shell holes, and obstructed with the debris of fallen trees, necessitating a slow advance. Immediately the barrage lifted, and our assaulting troops climbed over the parapet, the enemy's artillery fire became intense, and machine gun and rifle fire was opened on them, causing many casualties. All the officers of both C and D Companies were either killed or wounded…. In C Company, 2nd Lieut. Farran was killed at the commencement of the assault, and Captain M. Mallalue killed, and 2nd Lieut. H. Robins wounded, on nearing the enemy's trench.  On the right of Edge Trench, the enemy's wire remained to form a considerable obstacle, and the remains of C Company were unable to gain an entrance into the trench. The Company Lewis Guns, both of C and D Companies, were brought into action close to the German trench, and, for a time, until the teams were killed, fired with effect on the enemy. Sergeant Hamp of D Company, and Corporal Ord of C Company, in charge of the Lewis Gun Teams, fearlessly exposing themselves to heavy fire close to the enemy's trench, both gave their lives, and in the death of these two N.C.O.'s the Battalion has lost men who have always shown a steadfast devotion to duty, and a fine example of cool bravery. No history of the Battalion would be complete which did not record the services which Sergeant Hamp and Corporal Ord had always rendered to the Battalion, and the manner in which they served their guns, and met their deaths with unflinching courage."
 Maxwell's body was never recovered, and he is therefore officially commemorated on the great Thiepval Memorial to the Missing.
He is also remembered in the Memorial Window at Christ Church, Lothersdale, Yorkshire, which also commemorates four other nephews of William and Mary Spencer, Maxwell's grandparents-in-law.
Probate of Maxwell's Will, Effects £518.5.10, was granted to the widowed Mrs Jane Mallalue, 106 Maple Street, Vancouver, Canada.  During the war Joshua Dixon, Jane's father was employed in England within the Ministry of Munitions, and there was correspondence with the War Office in his son-in-law's Military record exhorting the expediting of payment of MoD gratuity and back pay to his daughter.   Jane lived on in Vancouver until 12 January 1984 when she died at the advanced age of 102.  Maxwell's son Robert died in Vancouver in 1976.
Maxwell's other brother, Ruspini Mallalue born 31 July 1875 (baptised at St John's, Redhill, 24 September 1875), was apprenticed in the Mercantile Marine and had gained a Second Mate's 'ticket' by 30 April 1896. He entered the Royal Naval Reserve and rose to the rank of Lieutenant Commander before being awarded the Naval Reserve Officers' Decoration in 1920.