Private Samuel William HEATH
Killed in Action 6 October 1916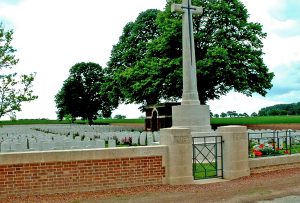 Samuel William was born in 1897, the second of four sons of George Alfred Heath (b. 1864) and his wife Jane nee Marcham.  They had lived in Chiswick all their lives.  When they were married at St Michael and All Angels Church by Father Alfred Wilson on 21 September 1885, he was a bricklayer aged 21 and Jane was 19.  Before marriage they had lived next door to each other at 4 and 5 Chapel Place Chiswick respectively.
In 1901, they lived at 62 Windmill Road, Chiswick.  By then, they had seven children: the eldest, Florence, was 15, the eldest son, George was 10, and Samuel 4.  Thomas Edward was 3.  George remained a bricklayer; his wife an ironer at local laundry.  By 1911, the Census return records that there were three more daughters, and another son, William, and the family had moved to 61 Swanscombe Road.  Sadly, George Alfred had recently died, leaving the youngest daughter aged only 4 months.  The couple had achieved their silver wedding.  There had been sixteen children in all, of which four had died in early childhood.  The remaining ten people lived in just three rooms; Jane and the 19 year old daughter Susan were both laundry hands, George (20) was a stable hand, and Samuel, at 14, worked in a factory.
We do not know when Samuel joined the army, as his Service Record has not survived.  He would have been aged 18 in 1915 so able to volunteer and he officially would have been eligible to be sent abroad on reaching age 19. However, many recruits appeared in front line service by age 18. Certainly, his younger brother Thomas Edward Heath was one of those.  Samuel William became a Private in 22nd. Battalion, Royal Fusiliers.
The Battalion was initially in the 99th Brigade, 33rd Division, and arrived in France 15 November 1915.  After only ten days  99th Brigade transferred to 22nd Division.  For the first half of 1916, it was  deployed in the Bethune sector, initially at Cambrin, and undertook routine trench duty near Souchez and Noulettes, and in late May first sustained sizeable casualties of 85 Other Ranks near Cabaret Rouge.  Until early July it was entrenched there for four-day tours of duty  – relatively quiet because of the build-up and start of the great Somme Offensive further south.  On 20 July the Division was moved to the Somme Front and from 24 July was at Montauban Alley and then involved in the heavy fighting at Delville Wood,  losing nearly 50% of its strength as casualties.
After rest and reconstitution, the Battalion re-joined the fray at the Front at Hebuterne from mid-August until mid-September.  After rest in billets at the rear at Authie, it was deployed to front line duty at the North Redan sector (see map: K34.d.9.9 – K35.a.5.9), under sustained sniper, enemy mortar and artillery pressure.  It is most likely that  Samuel would have been killed by shellfire or mortar.  He died on 6 October, during the process of being relieved from the front line by another Battalion from the 99th Brigade.  He was aged 19, and unmarried.
Private Samuel Heath was buried at  Euston Road Cemetery, Colincamps on Plot  I.C. 44.
His mother would have received his posthumous British War and Victory medals and his back pay and war gratuity amounting to at total of £15.11 s and 6d. (£1200 in today's money).  She would already have lost one of her sons in the War: Thomas Edward was Killed in Action on the Somme on 27 July 1916 .