This hand-written account by A/Commander Sterndale Bennett of the Drake Battalion's involvement in the battle for the village appears in Army Book 152. Correspondence Book (Field Service.)
189th Inf Bde. (63rd) R.N. Division 27.4.17
NARRATIVE of OPERATIONS against GAVRELLE-OPPY line and GAVRELLE village.
23rd April. 1917. 
11 pm. Patrols reported wire very thick. 
1.45 am. B and D Companies in position.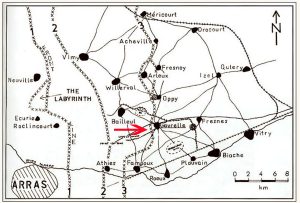 24th April 1917 
3 am. Whole Battalion in position in eight waves on a two platoon frontage. This formation was adopted, under instructions from 189th Bde, in order that the frontage might be reduced to make a way through the only gap reported by aircraft. The night was light and the dawn arrived before zero. The men however kept down and were not seen by the enemy. Enemy was shelling the GAVRELLE ARRAS Rd fairly heavily, but we suffered no casualties forming up in the assembly trenches. My H. Q. was then in the British front line.
ZERO. Barrage opened and men moved forward in fine style. 
O hr 3 mins Enemy wire encountered, this wire was terrifically thick and the leading waves became immediately disorganised in their endeavours to find gaps. I then thought it essential to leave H.Q. and try and straighten things out. We managed to get them all through the wire and at Ohr 8mins we assaulted the German front line with great success. B. Coy (the 2nd Coy in the original formation) worked down to the right flank and got rid of any Germans that were causing trouble. The leading Coy. (D Coy) suffered very badly going through the wire from enemy rifle and M. G. fire and all their officers, except the Coy Commander (Sub Lieut Wallis) became casualties. Gave orders to C. Coy (3rd wave) to keep in touch with KRR's at all costs, which they did very well. Mopping up continued until Ohr 12 mins when we went for the German support line.
We met with little opposition with the exception of small enemy parties which were soon dispersed. The advance continued under excellent leadership by the officers and N.C.O.'s and the way that the men kept close to the barrage absolutely fearlessly was truly magnificent. The YELLOW line was captured at about Ohr 40 mins.
We had an excellent view of the village now and our left flank was engaging enemy M.G s and rifles which were firing from the southern outskirts of the village. The Lewis Guns constantly came into action against enemy parties that were making a stand and were very effective. During this wait on the YELLOW LINE enemy snipers were quite active and Sub Lt. Wallis was hit through the head. 
The advance continued and wherever the enemy showed fight, our men made immediate dashes at him and put him out of action or (in a few cases ) sent him back as prisoners. The men's blood was up and few prisoners were taken. Owing to our having suffered pretty badly in the enemy's wire the men had little mercy. 
In the SUNKEN ROAD there was a considerable enemy garrison. They started to bolt but about 400 of them were reorganised under an officer and at one period it looked rather as if they were going to hold up the KRR.'s (who were not close enough to the barrage) Our advanced parties were ordered to rush up to the SUNKEN ROAD and attack the garrison on their right flank. They did this in excellent style bringing up a Lewis gun and enfilading the road. Those of the enemy that were left gave themselves up and had to run the gauntlet through our men as they ran back to the rear. The same Lewis gun took up a position on the eastern side of the road and played on the remainder of the garrison which was doubling towards SQUARE WOOD. Word was sent to the KR.R.'s that their position was taken and they could come up when they thought fit.
When the remainder of the Bn came up we immediately pushed out our Lewis guns on to the high ground to the east of the road and gave our men a short rest. During this period many more of the enemy were cleared out of the small shelters in the SUNKEN ROAD and enemy tools were being collected. I then went out to site my trenches and expected to see the Nelson Bn. coming out of the village on my left but they did not show up. So I decided to dig my line using an enemy communication trench for my general alignment. Keeping the men as much as possible off the road, they started to dig in . 
I saw a small party of the Nelson Bn digging in about C.25.a. 6. 1. So I decided to make towards this on my left flank and the cross roads C.25 c.9. 1. I decided this was my right flank as I was here in touch with 2 Cmy's of the K.R.R.'s. 
I had a splendid view of the valley ahead to FRESNES les MONTAUBAN and I felt that, as my flanks were doubtful, I could not do better than dig in where I was. The enemy M. G's from about C. 19 D 3.3 and C. 19 D 9.4. were giving us a lively time but we managed to rush out to shell holes on our right flank to the east of the road and the consolidation went on very successfully. 
The enemy then started to shell the road with 5.9's and I sent back for retaliation on FRESNES les MONTAUBAN on the OPPY gun line. 
The enemy during our consolidation was coming back in small parties and occupying trenches in the valley and some small areas of dead ground about 300 yards from our position. I received no fire except for occasional sniping owing to the lack of SAA.
During the afternoon a very formidable body of the enemy started to advance towards us in waves on a line stretching from about C.20 central to SQUARE WOOD. The number must have amounted to two brigades. I sent back immediately for the barrage to reopen. This was done and the enemy became thoroughly disorganised and on the left flank they started to retire along the road. However small parties kept advancing and occupying the trenches to the NE of the village and also the dead ground 300 yards in front of my position. They were evidently determined to drive us out if possible and I kept up my consolidation at top pressure. I sent back for information regarding my flanks and for Small Arms Ammunition and bombs. 
I kept my H.Q. in the firing line because from there I could see the enemy's movements. As soon as SAA arrived we kept up a steady fire at the enemy as he approached us in small parties, I got news of my flanks from the Brigade and felt more confident of my position. My right flank however was still doubtful as we only had two Coy's of the K.R.R.'s between us and an enemy strong point. This strong point was causing considerable trouble to the K.R.R.'s by enfilade fire along the SUNKEN ROAD. I got into communication with the K.R.R.'s and was informed that this gap was going to be made good by the 13th R. Fusiliers during the night. 
The enemy kept coming on in driblets all afternoon and I expected a counter-attack during the night. I sent my Lewis gun officer to select good sites for my Lewis guns keeping two guns on each flank. My two Stoke guns were dug in just behind the SUNKEN ROAD also protecting my flanks.
25th April 
During the Stand to at night I reinforced my posts in flank by sending out five Lewis Guns about 100 yards in front of my position. Early morning "minnies " started to shell the village with great vigour from the enemy trenches to the N.E, The NELSON Battalion sent up an S.O.S. signal and I sent back to get the heavies – giving the co-ordinates. The heavies opened up another barrage. This quietened down the "minnies" but the 5.9's were very active. These 5.9's during the whole time we were up in the line caused considerable annoyance and I constantly sent back for retaliation. In some cases this retaliation had a good effect. 
During the morning still more parties of the enemy were constantly pushing forward opposite my front and we fired on them continually when we could afford the ammunition. They brought up M.G's and started to sweep our parapets Our M. G. took up a position about 1. 1.b. 6.9. and played along the road, making communication between ourselves and the K.R.R.'s extremely difficult. 
During the afternoon 20 of the enemy again appeared on the ridge to the N.E. of the village about 1000 yards away. I estimated his strength at about four battalions and, as he was shelling the village with heavies for about six hours and was putting up an intensive barrage he evidently meant to attack the N.E. corner of the village – the most vulnerable place. The corner (MAYOR's HOUSE) was held by a platoon of NELSONS and 1 Lewis Gun. I saw the house hit by one or two 5-9's and I saw the garrison retire. When the enemy barrage lifted I sent down to the HOWE Company Commander, who was holding a line along the western edge of the cemetery to occupy the MAYORs HOUSE at once, and sweep the ridge with a Lewis Gun in order to keep down enemy M. G.'s that were enfilading our trench. 1 sent back a message to my liaison officer to get the artillery on to the enemy on the Ridge. Just as the last wave was appearing over the ridge the artillery crashed amongst them in great style. It was a glorious sight. The enemy however were fine troops – much finer than those of the previous day – and they kept coming on by occupying shell holes and small trenches. Our Lewis Guns and rifles on the left flank played havoc with these parties and were keeping up a steady well controlled fire which mowed down the enemy. I thought that probably the enemy troops who were just in front were waiting for those on my left flank to get up into line before advancing. Just as the enemy was getting up into line I sent up my S. 0. S. and the barrage came down on those in front of my position. They held on and suffered badly from this barrage. Any that moved were mowed down by my men. 
The landscape now was fairly clear except for stretcher parties. The sniping however went on until dark and the constant rifle and Lewis Gun firing accounted for considerable quantities of the enemy. They were congregated in the trenches to the N.E. of the village and I warned the brigade to keep up a steady fire with the heavies round this corner. I thought that if they rushed this corner, the positions of both brigades would be seriously imperilled. 
During the night I heard very heavy rifle fire going on on my left near the Ridge and also had a report from the K.R.R.'s that the enemy was moving forward in front of them. I had previously agreed with the C.O. of the K.R.R.'s that I would support him with the artillery in front of me, so I did not hesitate. I sent up my last S. 0 S and the barrage opened on the enemy immediately in front of my position. I thought perhaps the rifle fire on my left was the enemy advancing, firing from the hip, and as the enemy garrison in front of me was strong, I felt justified in asking for one more barrage. They could have rushed us with comparative case as the men had little or no sleep since the 21st and were thoroughly exhausted with the constant vigil and consolidation. 
During the massing I asked for a few reinforcements but the artillery being so effective – when the reinforcements arrived they were not needed. When the final counter attack was broken I asked for shelling along the ARRAS GAVRELLE-FRESNES ROAD if the shells could be spared. This arrived and caught many large parties of the enemy along this road.
I feel that I am not exaggerating when I estimate the enemy's casualties at two thousand. We were firing at them continually all the time we were up there – the fire was well controlled and splendid effects were seen – The artillery was magnificent. The enemy was thoroughly butchered and we enjoyed every moment of it all.

W. Sterndale Bennett. Act. Commander 
Commanding Drake Bt. November 1917