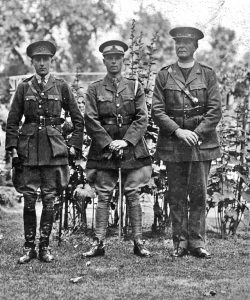 Although aged 61 at the outset of the War, the Vicar Father Cartmel-Robinson "did his bit".  In June 1915 he volunteered to serve :
" I have joined the United Arts Corps, and drill three or four times a week.  I might be of some use in case of a raid, or at least release a younger man for foreign service.  Anyhow, I felt that my action might help some others to form a decision, for I am, and have always been, in favour of universal service…."
He also became the chaplain to the St Michael's Cadet Company and attended all the annual camps with it.  By the last year of the War he had become Lieutenant Colonel of the entire 10th Cadet Battalion, Middlesex Regiment, presiding at all its  monthly "Drumhead" services, first in the vicarage grounds and latterly in Stamford Brook Common.  In the meantime, his sons joined up.  The eldest, Harold, was appointed to the African Field Force, Jacob in the Connaught Rangers who served in Gallipoli, (where he was wounded) and Eirik joined the 2nd. Dragoon Guards (the Queen's Bays).  All of them survived the War.
In September 1915, the Parish magazine reported that Mr Arthur Smart, the Sacristan and lay sub-deacon had signed up for military duties – the vicar wrote: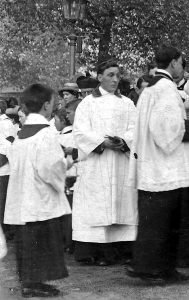 "I don't know what we shall do without him … one feels proud of being associated in work with men like Smart, so robust, sensible, reverent and unfailing….as Smart is giving up his business at the call of his country and leaves behind a wife and children, we ought to show our appreciation of his good work. As he said to me 'I am an old soldier, and I felt I ought to go when they asked for men'. They must value him at headquarters for he has already risen to be a Corporal. When they asked him what he was, he replied 'Sacristan at St Michael's, Bedford Park'. I wonder if the recruiting officer knew exactly the nature of such an occupation."
A testimonial was subscribed for the Smart family and the individual donors (together their donations!) were listed in the following months' magazines. 
Corporal Smart, in the Royal Field Artillery, wrote regularly from the front, as did many of the St Michael's soldiers, but his letters are particularly evocative and moving. In May 1916 he wrote to his wife:
"This letter is written under gunfire. There is a battle on and its realities speak more than tongue or pencil could tell … night and day continuous fighting and the spirit of the officers, non-coms and men, wonderful… I expect you and the children will be going to Mass tomorrow, Ascension Day. I shall think of you. Remember me in your prayers. I miss the Altar prayers with the Vicar … give him my kind regards, and tell him I miss my church work around the altar very keenly. I must stop; the guns distract me; they are booming away louder than ever"
In February 1918 there was a letter from Mr Smart entitled "Intercession Services at the Front Line". This describes a short service in a 'hole dug in the side of a winding road over the hill'.
He concluded:  "Prayers finished, (which included those for two of the company's 'beloved comrades' whom they had 'laid to rest that very afternoon') we sang, kneeling, 'O God our help in ages past'. This was indeed a prayer, sung in earnestness and reverence. Many men in the days to come will call to mind the night in the hole in the road … Here you see the way the evening hour was spent on the Western Front, right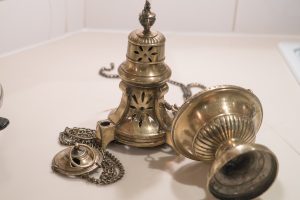 forward in the firing line, on the night of 6th January (Epiphany) when any moment might be our last on earth."
When he returned after the War's end, Mr. Smart resumed his sacristan duties.  He had brought with him a brass thurible or Censer "salved" from a ruined French church, which, after recent restoration, is still used during the Requiem Mass on Remembrance Sunday.
The late first Vicar Alfred Wilson's family lost two of his sons, Edgar and Lawrence, to the War and are both commemorated at St Michael's with special plaques in the South Aisle.  The Curate for most of the War period was Rev. Thomas Stevens, whose family lived nearby in Notting Hill.  His younger brother was 2/Lt Walter Stevens, who was killed in the early stages of the Battle of the Somme in 1916 as described here.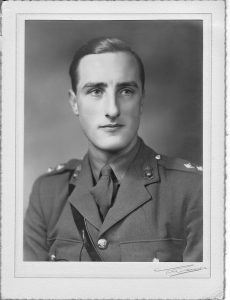 Finally, the vicar's successor in 1934, Rev. Lewis Smith, had volunteered while a theology student.  He served with distinction in 6th Royal West Kent Regiment and was awarded an MC for his actions at Monchy-le-Preux: "For conspicuous gallantry and devotion to duty when in command of a raiding party. On completion of the task, he personally superintended the withdrawal which was carried out in good order. He showed considerable powers of leadership".  He died in 1953, while still incumbent at St Michael's.